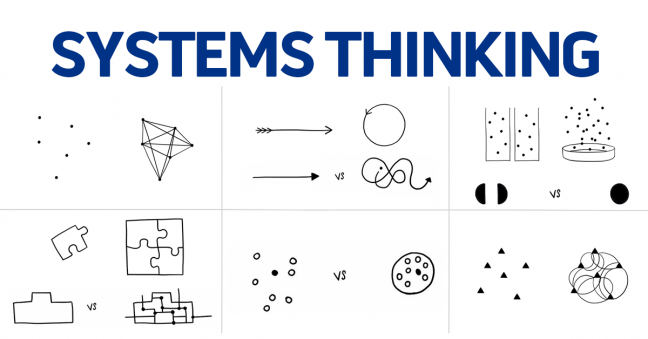 It's common to hear people talking about the importance of systems thinking in the workplace these days.
The point that folks make is that if you want to really solve problems, or really grasp opportunities, you've got to think of issues systemically.
I've heard this same basic point made by people in different work circles: learning and development, safety, operations, maintenance, HR, and more.
And beyond that, the point is often extended with some helpful advice: think of connections instead of disconnections/silos; think in circles instead of in a linear manner; think in wholes instead of parts; think of synthesis instead of analysis; think of relationships instead of about things in isolation. Be big-picture. Be holistic.
And that advice is good, to a point. But I also find it somewhat vague and hard to act on.
As a result, I decided to do a little reading on systems thinking to learn more. I'm hoping that by learning about different systems archetypes, different components of systems, and the different ways systems grow/decline, it will make it easier to identify systems at work, determine how they work, and then try to change them when I want to.
I'm doing this as a bit of a "learning out loud" project, not entirely knowing where this will go or how useful it will be. As a result, even though I always invite your thoughts and opinions in the comments section below, that's especially true for this article. If you've got your own favorites sources about systems thinking, your own thoughts about systems thinking and how to apply it at work, or if you can begin to point out how to apply some of the lessons below in specific contexts, please do share! NOTE: Here's one by Steven Shorrock on Systems Thinking for Human Factors that just got published.
In the credit-where-credit is due section, I should note that this article is largely based on the first-half of the book Thinking in Systems: A Primer by Donella H. Meadows. We are deeply endebted to Meadows here and in no way do we think this captures all the great thought in the book. Please consider buying a copy of the book today, as it goes into much more detail and includes many helpful examples and illustrations. It's our plan to return to some of the materials in the second-half of Meadows' book in future articles.