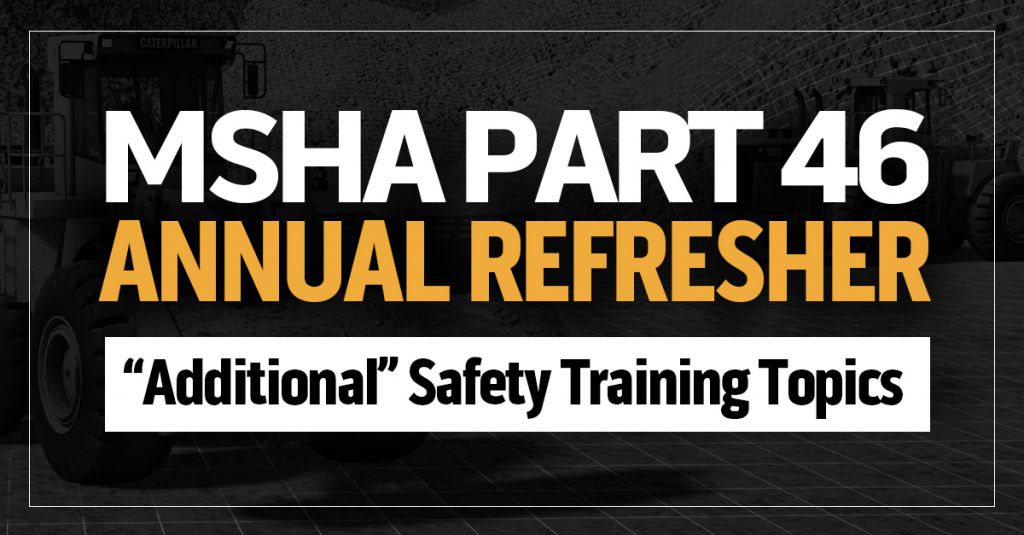 MSHA Part 46 mandates safety training requirements at surface mines. For more specifics about that, please read our What Is MSHA Part 46? article (a quick side-note: we'll include a lot of other helpful links to MSHA Part 46-related materials at the end of this article).
Within Part 46, MSHA requires different types of mining safety training to be delivered to different types of miners and employees and at different times. MSHA and Part 46 call these requirements "training programs," and here are the ones MSHA lists:
It's the Part 46 Annual Refresher Training Program for surface miners that we're going to look at more closely in this article.
In 46.8, the regulation states that the annual refresher safety training must include "instruction on changes at the mine that could adversely affect the miner's health or safety." In addition to that, however, the regulation says that "refresher training must also address other health and safety subjects that are relevant to mining operations at the mine."
Although MSHA doesn't require specific training topics for those "other health and safety subjects…relevant to mining operations at the mine," they do provide a list of suggestions or possibilities.
This article will provide more details about those suggestions from MSHA for additional training to include in the Part 46 Annual Refresher Training Program in addition to changes at the mine.
Before you begin reading (or maybe after), you may also enjoy checking out these two fun, interactive/multimedia online mining safety training tools we've got for you:
As explained if you follow those two links above, you can even download these for free.
As we give suggestions below, we'll include some samples of online training for each topic. These samples are drawn from the online MSHA training courses offered by Convergence Training. A short sample highlight video is below.