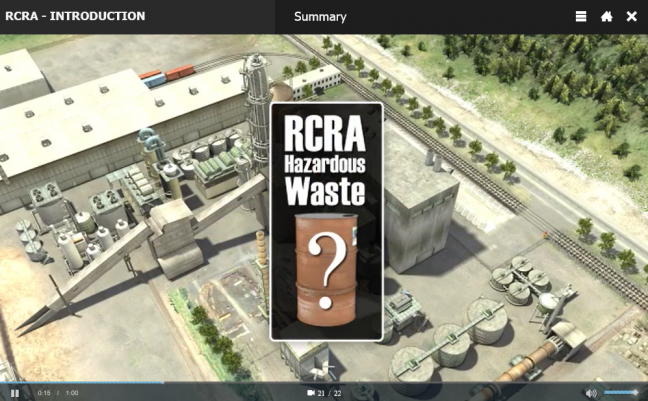 So what is hazardous waste, you may ask?
Hazardous waste is regulated by the US EPA and The Resource Conservation and Recovery Act, or RCRA. The RCRA is a set of environmental regulations that regulates hazardous waste and more. In this article, we provide an overview of the RCRA, explain what a "hazardous waste" is (according to the EPA and RCA, naturally), and offer an online hazardous waste training suggestion for you–our RCRA Introduction online training course, which is part of our larger online Environmental training library. The online course is a great and inexpensive option for those of you who don't want to read the full article or who want to show the course to a number of workers.
This material in this article and the online course will help your company ensure you're treating hazardous wastes properly, not running afoul of environmental regulations, and doing your share to protect the environment around us. It will also offer suggestions and samples of hazardous waste training courses.
This article is a continuation of our look at online environmental training courses. You may also want to check our earlier article on The EPA, Environmental Regulations, and Online Training.
Before you begin reading, feel free to watch the short video overview of a few highlights from our Environment, Health, and Safety (EHS) online training library.