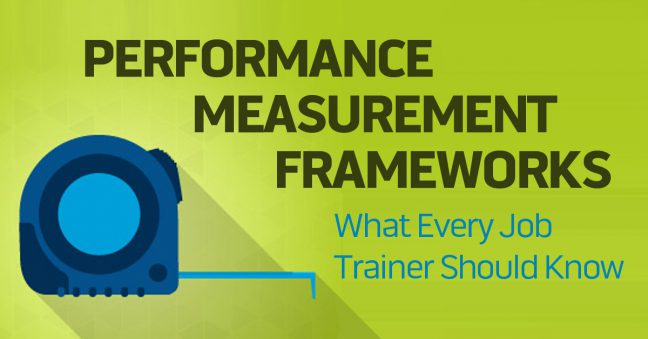 Job trainers have a lot of things to check off their to-do list.
One is to evaluate the learning of employees who have completed training. This means things like assessments and tests, seeing if people can pass tests, have necessary knowledge, and (most importantly) have acquired necessarily skills/can perform necessary tasks.
The second is to determine if the training is having a positive effect on the relevant performance metrics for the company and, if possible, to determine an ROI for the training (this is how you're going to really prove your worth and really prove your training is effective). In terms of Kirkpatrick's training evaluations, we're talking about the elusive but equally important Level 4 here.
But a lot of trainers go to school and learn a lot about instructional design theory while learning next to nothing about performance metrics (this includes me-guilty). As a result, it's not always clear how to start showing if training has had a positive effect on those performance metrics.
To help solve this problem, we thought we'd give you an introduction to some of the theory behind the development of meaningful workplace performance metrics, and in particular to what are known as "balanced performance metrics."
This will be one of a series of articles we'll write on how training is related to performance metrics and KPIs not just for the training department but for the company as a whole, so keep your eyes on future articles for more on this topic.
What you'll learn here is based off a handy little guide called Designing Metrics: Crafting Balanced Measures for Managing Performance by Dr. Bob Frost. We found this book to be really helpful, pleasantly brief, and to-the-point. We recommend you buy a copy if this article sparks your interest, and we note that Dr. Frost has written a few other books that look interesting as well. In particular, Measuring Performance: Using the New Metrics to Deploy Strategy and Improve Performance looks like it might be good and a logical next step to this book.