If you're a member of the American Society of Safety Professionals (until recently the American Society of Safety Engineers), here's a quick note that we've got yet another article in their Professional Safety magazine.
This article is one of a series we've written on "big issues" in safety training. They're all based in key parts of the ASSE/ANSI Z490.1 standard for EHS training.
Click here to buy ANSI Z490.1, click here to read our introductions to the Z490.1 standard, or click here to read our article on effective safety training. You can also download the guide to effective safety training at the bottom of this article, which covers at lot of the same ground.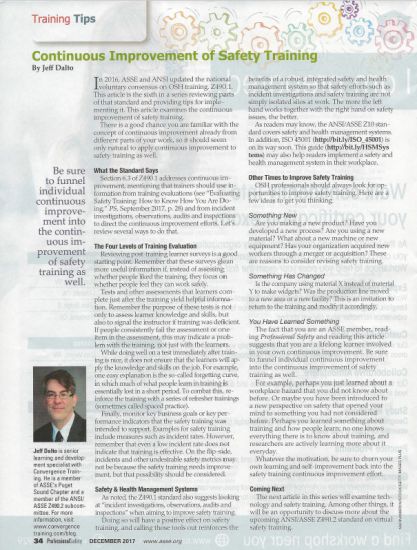 The article is a continuation of our series highlighting some "big issues" in safety training, and it focuses on evaluating safety training to make sure you're getting the desired results. Our Effective Safety Training article all the big points in the series plus more, our article on evaluating safety training covers much of what is discussed in the magazine article as well (though not everything), and our free Guide to Effective Safety Training at the bottom of this article covers much of the same ground.
Our next article at Professional Safety will look at technology for safety training, and will give a sneak peek at the upcoming Z490.2 standard for "virtual safety training," so stay tuned for that.
And speaking of Professional Safety, the December article looks like a good one. Here's a sneak peek of topics covered:
The Role of Research in OSH
VPP
NFPA & Fire Risk Assessment
Integrated Approaches to Worker Safety & Health
ISO 45001
New OSHA Enforcement Policy for Monorail Hoists in Construction
The Use of Collected Human Capital Metrics
Distracted Driving
Four Fields of Safety Performance
Fatigue and Worker Safety
Hydrogen Sulfide Training Programs and Z390.1
Adult Learners and Safety Training
Maintenance on Mobile Equipment and Control of Hazardous Energy
Continuous Improvement of Safety Training (my article)
Take an hour or so and get your safety read on!
Let us know if you've got any questions, feel free to check out our online safety training courses and our LMS for safety training administration, download the free guide below, and have a great day.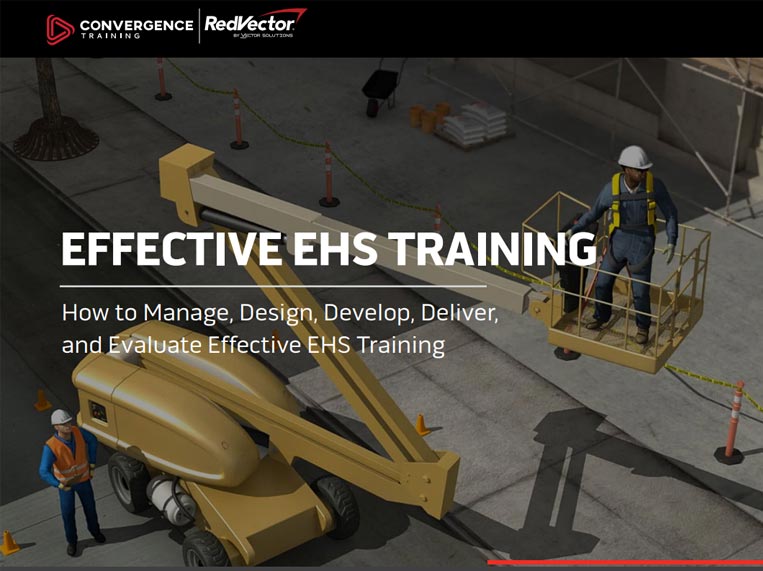 Effective EHS Training: A Step-by-Step Guide
Learn how to design, create, deliver, and evaluate effective EHS training by following these best practices with our free step-by-step guide.