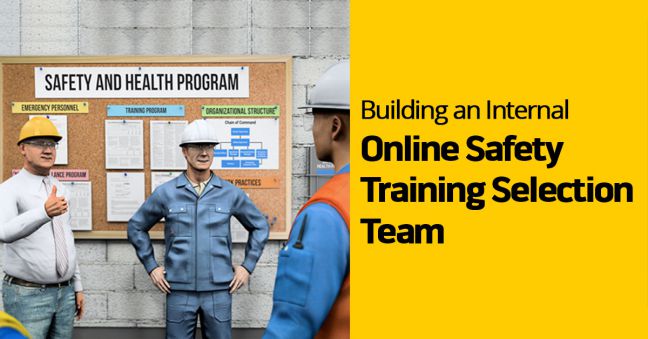 It's not easy to find the online safety training solutions, including courses, learning management systems, and providers–that work best for your company.
As a result, many people get frustrated during their search or, worse yet, make a poor decision.
One thing you can do to improve your chances of success when evaluating online safety training solutions is to develop a team within your own organization to help with the online safety training search. After all, more minds, more eyes, and more sets of expertise are likely to make a better decision, right?
We've written this article to help you develop your internal online safety training search & selection team. Read on for some helpful tips.
If you want to learn even more about evaluating online safety training, we've included a lot of additional links for you at the bottom of this article, and don't forget to download our free 90-page Online Safety Training Buyer's Guide Checklist.
How to Build an Internal Online Safety Training Selection Team at Your Company
So, first things first. Don't try to do this on your own. Get some help.
Go ahead, read the following line out loud to yourself: "I will not try to search for and select online safety training for my company all by myself."
OK, great. Now let's start talking about how to build your online safety training selection team.
Who Should Be On Your Online Safety Training Selection Team
The basic idea here is you should get help from anyone you can, but the input and direction from the following people can be especially helpful as you're trying to find the best online safety training solution for your company:
Front-line employees who will have to complete the online safety training
Your employees (and perhaps also your visitors, vendors, contractors, customers, and suppliers) are the ones who will be completing this safety training online. And ultimately, the project will sink or swim based largely on how employees feel about the online safety training solution you select.
So, it makes sense to employees on your online safety training selection team.
Get their input early and often, and make sure you get their input throughout the entire process. Do they want online safety training? What do they like about the idea of online safety training and what don't they like? What features are they most likely to appreciate and use, and which features are they least likely to appreciate and use?
Be sure to include employees near the end of the process as well, when you're actually previewing and/or demoing online safety training. There's no better way to know if employees will like the potential solution than to give them immediate, hands-on access to it.
Safety management
We're assuming this is you–the safety manager or safety professional at your work site. So perhaps this goes unsaid.
But maybe you are not the safety manager at work, but are for whatever reason doing some research on this topic and have found yourself at this lovely little article. If so, be sure to get your safety manager on the team (assuming, again, you do have a safety manager at work–we know there are a lot of HR professionals and operational professionals doing double-duty out there too).
Your safety manager or some other safety professional at work should have a lot of insight into what you're looking for. What are your safety training needs in general? What regulatory topics do you need to address in safety training? When creating a blended learning solution for safety training at your workplace, what topics will be best to cover with field-based training or classroom-style instructor-led training, and which topics will be best to cover with online safety training?
There will be many similar questions (and answers) that a safety manager can provide to help move your online safety training selection efforts forward.
Subject-matter experts who may play a role in developing or leading training
Most workplaces have employees who are (1) subject matter experts in particular fields and (2) play a role in designing, creating, and/or delivering training. That's true for all workforce training and it's true for safety training as well.
Figure out which employees are those subject-matter experts who are likely to be involved in safety training and will have to use any online safety training courses or learning management systems, and/or will have to work with any online safety training provider you do ultimately partner with, and make sure these folks get their say and share their expertise in this selection process.
Production/operations management
One flaw that many workplaces have is that we work in silos, often governed by specific departments, and don't work together as a team as much as we could. This is often true no matter which departments you're talking about, and of course it's also sometimes true for safety.
But what is safety, after all? Isn't it an application of and part of operations/production, in the same way that quality is? And so doesn't it make sense that people in production and operations might have some valuable input when it comes to selecting an online safety training system?
Hey, they might even partner with you on the costs and work involved with some of this. They've probably got some training needs that are perhaps not being met as well, right?
Quality management
The same point we just made above, about how safety & operations should be viewed in combination and not in silos, as applies of course to safety and quality.
Not every workplace has a quality department or a quality manager, but if yours does, get the input of these professionals on your online safety training selection as well. And, again, see if they might be willing to partner with you on the costs of the system or training.
Training/learning & development management or professionals
Thinking about selecting online safety training? Have actual training or learning & development professionals in the office?
Well, these two go together like peanut butter and jelly (or, peanut butter and chocolate, if you prefer).
If you're lucky enough to have training or L&D staff at work, be sure to include them in the process of finding online safety training. They will have a lot to share and offer.
And that reminds us–did you know that the ANSI/ASSP Z490.2 national standard for Online EHS Training is currently being created and will be in final format soon. It's true, and Jeff Dalto of Convergence Training is one of the members of committee. You can read this article to see one of his recurrent updates on the process of creating Z490.2 for online EHS training.
Human resources (HR) management
If you are so lucky as to have training and/or L&D staff in-house, there's a good chance they're part of HR. Or, even if you don't, there's a good chance that HR plays a role in learning & development/training at your work.
And so, it makes sense to get HR involved in your online safety training selection process as well.
In particular, this is true because they may already have some resources and tools related for training that you can piggy-back on here. It may save you from having to buy something twice (such as a learning management system) or from doing work that someone's already done.
They may also help you identify all sorts of issues and challenges that they're perhaps solved for general workforce training that you may not anticipate yet but no doubt will have to deal with for safety training as well.
And they may have a bit of budget they can throw your way, too.
Remember HR is about working with people, and as this Safety and the Learning Organization article points out, so is safety.
IT
Online safety training happens online. And that's IT country, right?
Many online safety training systems are hosted on the cloud and require minimal technical work on your end, but you'll still probably want to get them involved. They may be helpful with a whole bunch of issues, including integrating your online safety training to other software applications at work through APIs, setting up single sign-on for your LMS, issues related to the desktops, tablets, and/or smart phones people will use to complete training, and a lot more.
Additionally, you may want a system that's hosted not on the cloud but on your own internal network servers. This will make consulting IT even more important.
Supervisors
In many cases, departmental managers or supervisors will play a role in safety training and, as a result, in online safety training.
That may include doing things like:
Assigning
Leading classroom-style training
Creating online safety training activities
Crediting employees for completed safety training
Running reports
More
For those reasons, it's a good idea to figure out who these people are and to get their input too.
Data Analytics Professionals
It's probably a small percentage of companies that have in-staff data analysis professionals, but this is an increasingly important field and more and more companies will be hiring people with data analysis expertise in the future.
And that dovetails very nicely with the fact that as EHS systems become increasingly digitized, we're capturing and storing a lot more EHS data.
Of course, with online safety training solutions, you'll be able to acquire even more data, and as technological changes continue, and things like virtual reality (VR), augmented reality (AR), chatbots, artificial intelligence (AI), machine learning, and the Experience API (xAPI) become increasingly common in all kinds of training, we'll be developing even more data.
But you can drown in unprocessed data, and these data analysis professionals can help you make sense of it instead, turning confusion into actionable insights. So, should you be so lucky as to have a data analytics professional in house, talk a walk over to their office and bend their ear a little bit.
Conclusion: Building a Great Online Safety Training Selection Team Will Get You Better Online Safety Training Solutions
We hope you found this information on putting together an internal selection team to search for and evaluation online safety training courses, learning management systems (LMS), and providers helpful.
Now, the question on your mind now may be "OK, so great, I'll pull together an online safety training selection team like this, but what should we do next?"
The short answer is you should work together to develop some use cases of what you want your online safety training solution(s) to do. But we'll talk more about that in an upcoming article. Until then, you may also want to check out these other recently published, related articles.
And before you go, click that button below to download our free Online Safety Training Buyer's Guide Checklist.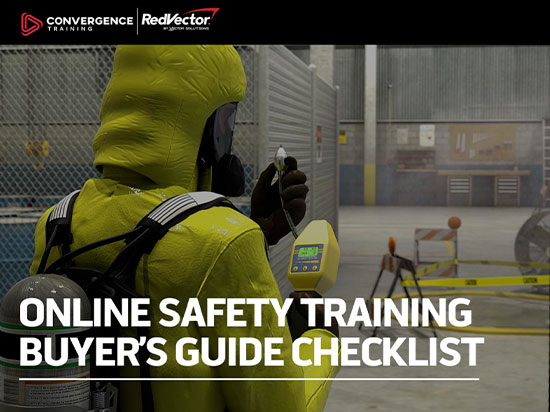 Online Safety Training Buyer's Guide Checklist
Learn how to evaluate different online safety training solutions to find one that best fits your company's needs with our FREE informative guide and checklist.