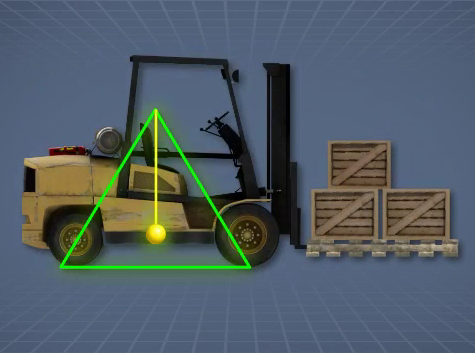 Have you ever wondered how to add an online training element to your forklift safety training program? Been curious about online forklift safety training and how to use it?
Or have you maybe ever wondered if it's even allowed? Hint: it is.
In this article, we're going to give a quick overview of the OSHA training requirements for forklift operators, and then we'll give you some tips for using online forklift safety training materials as part of a blended learning program.
Let us know if you have any questions–the comments section is at the bottom.
Also, just an FYI–we'll be focusing on the 1910/General Industry Powered Industrial Trucks training regulations.
And if this blog post isn't enough for you, check out our Powered Industrial Trucks Training Materials post, which has free word games, an interactive PIT glossary, an extensive PIT FAQ, and more! Wow!
Or maybe some of these articles will interest you:
But let's get on with how to create a forklift operator training program that includes online forklift safety training.
Can I See Some Examples of Online Forklift Safety and Operator's Training?
We're going to walk you through OSHA's training requirements for forklift operators. We're also give you a series of ideas about how you can use online training to satisfy some of those OSHA requirements as part of a blended learning solution.
But before we do, check out these short samples from a few of our online forklift training courses to get a general idea of what online forklift safety and operations training might look like.
Forklift Safety Training
Here's a small sample of our online Forklift Safety training course:

Forklift Operator Training
And, here's a short sample of our online Forklift Operator Training-Reducing Product Damage course:

Do you have a global or international workforce? Or workers that don't speak English as native speakers? You may be happy to know you can get these kind of courses in other languages, such as Spanish. Check the video below.

For more information about multi-language safety online courses just click that link you just passed.
What Are OSHA's Training Requirements for Forklift Operators?
OSHA's training requirements for forklift operators are laid out in 1910.178(l),
The OSHA forklift training requirements are broken down into the following components:
Safe operation, 1910.178(l)(1)
Training program implementation, 1910.178(l)(2)
Training program content, 1910.178(l)(3)
Refresher Training and Evaluation, 1910.178(l)(4)
Avoidance of Duplicative Training, 1910.178(l)(5)
Certification, 1910.178(l)(6)
Dates, 1910.178(l)(7)
We've broken this all down for you in great detail in our OSHA Forklift Certification and Training Requirements  article.
Does OSHA Allow Online Forklift Training?
Yep. Check out 1910.178(l)(2)(ii), where they explicitly say you can. We've quoted it directly below.
"Training shall consist of a combination of formal instruction (e.g., lecture, discussion, interactive computer learning, video tape, written material), practical training (demonstrations performed by the trainer and practical exercises performed by the trainee), and evaluation of the operator's performance in the workplace." 

Source: OSHA, 1910.178(l)(2)(ii)
Does OSHA Say What Topics Must Be Included In Forklift Operator Training? Can Any of Those Be Addressed With Online Forklift Training?
They do list topics to cover in training. We've listed them for you below, and we've identified topics you could cover wholly or in part with online training with bold font.
Training on Truck-Related Topics
These training topics are listed in 1910.178(l)(3):
Operating instructions, warnings, and precautions for the type of truck the operator will be authorized to operate
Differences between the truck and the automobile
Truck controls and instrumentation; where they are located, what they do, and how they work
Engine or motion operation
Steering and maneuvering
Visibility (including restrictions due to loading)
Forklift and attachment adaptation, operation, and use limitations
Vehicle capacity
Vehicle stability
Any vehicle inspection and maintenance that the operator will be required to perform
Refueling and/or charging and recharging of batteries
Operating limitations
Any other operating instructions, warnings, or precautions listed in the operator's manual for the types of vehicle that the employee is being trained to operate
Every item in bold font above can be addressed, at least in part, with online training.
For example, consider the requirement to train forklift operators about stability. Then watch the Online Forklift Safety Training sample that we showed earlier.
Gets your employees on the right path, correct?
Then you can follow up with the "practical" training in the field involving demonstrations mentioned by the regulation.
And, of course, you'd have to cover the training that's specific to your site and/or the actual forklift the worker will operate on your own. (Although you could even make your own online safety training materials to cover some of that–we show you how here).
Training on Workplace-Related Topics
These training topics are listed in 1910.178(l)(3):
Surface conditions where the vehicle will be operated
Composition of loads to be carried and load stability
Load manipulation, stacking, and unstacking
Pedestrian traffic in areas where the vehicle will be operated
Narrow aisles and other restricted places where the vehicle will be operated
Hazardous (classified) locations where the vehicle will be operated
Ramps and other sloped surfaces that could affect the vehicle's stability
Closed environments and other area where insufficient ventilation or poor vehicle maintenance could cause a buildup of carbon monoxide or diesel exhaust 
Other unique or potentially hazardous environmental conditions in the workplace that could affect safe operation
The requirements of this section (meaning the regulation)
You will probably be able to use online training a little less for these training requirements.  But again, you can see by the bolded text that you can cover quite a few with online training.
The points we made above for Machine-Related Training Topics also apply to these Workplace-Related Training Topics. You'll still use "practical" field-based skill demonstrations, and you'll still blend online training with more site-specific materials of your own.
Blended Learning Solutions: Online Forklift Training and Face-to-Face/Practical Training
As you've seen, what we're suggesting here is "mixing and matching" the different types of training materials. This lets you provide a more comprehensive, efficient, and effective training solution for forklift operators.
Training experts call this a Blended Learning Solution. For example, it's what ANSI Z490.1, the US National Standard covering Criteria for Accepted Practices in Safety, Health, and Environmental Training, recommends. 
(Click to download our free Guide to Effective EHS Training, based on Z490.10).
You can read more about blended learning here, or download our free Beginner's Guide to Blended Learning here.
Refresher Training for Forklift Operators
OSHA's general industry regulation also calls for refresher training and evaluation for forklift operators.
Up to this point in the article, we've talked about eLearning courses (this is the training content). But online safety training also includes something called a learning management system, or LMS. The LMS can help with this refresher training.
An LMS is an online software system that helps you manage all aspects of training administration. This includes assignments, delivery, notifying employees, completing training online, completing other training in a classroom or field-based setting, creating and storing completion records, and running reports.
One great thing an LMS does is keep track of training that must be taken recurrently–like forklift operator training. Here's what the general industry forklift regulation requires:
"Refresher training, including an evaluation of the effectiveness of that training, shall be conducted as required by paragraph (l)(4)(ii) to ensure that the operator has the knowledge and skills needed to operate the powered industrial truck safely…"

Source: 1910.178 (l)(4)(i)

"An evaluation of each powered industrial truck operator's performance shall be conducted at least once every three years."

Source: 1910.187(l)(4)(iii)
The image below gives you a quick example of how easy it is to create an assignment in an LMS for training that "expires" and that workers must complete again after a certain time–like forklift training does.
The LMS automatically keeps track of the original completion date, notes the passage of time, notifies managers and the forklift operator when the training is close to expiring, and notes if an operator has allowed his or her training to expire.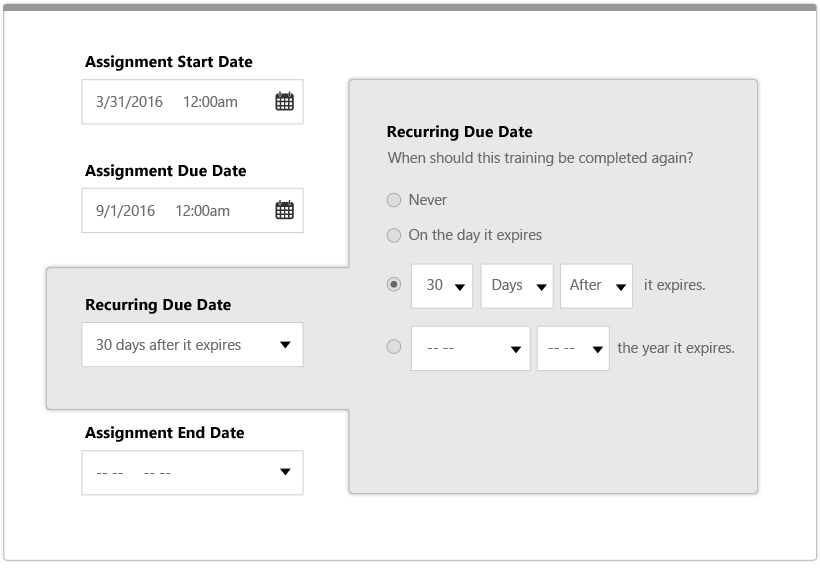 Field-Based Performance Evaluations for Forklift Operator Training
Another thing you can do with "online safety training" for forklift operators is take a mobile device out into the field to record results of the forklift operator skill demonstrations and evaluations.
Just:
Evaluate the operator's performance
Check the operator off for specific items on a performance checklist (see below)
Gather trainer and operator signatures in the field
Later dock the mobile device to sync all this data with your learning management system
Pretty handy, huh?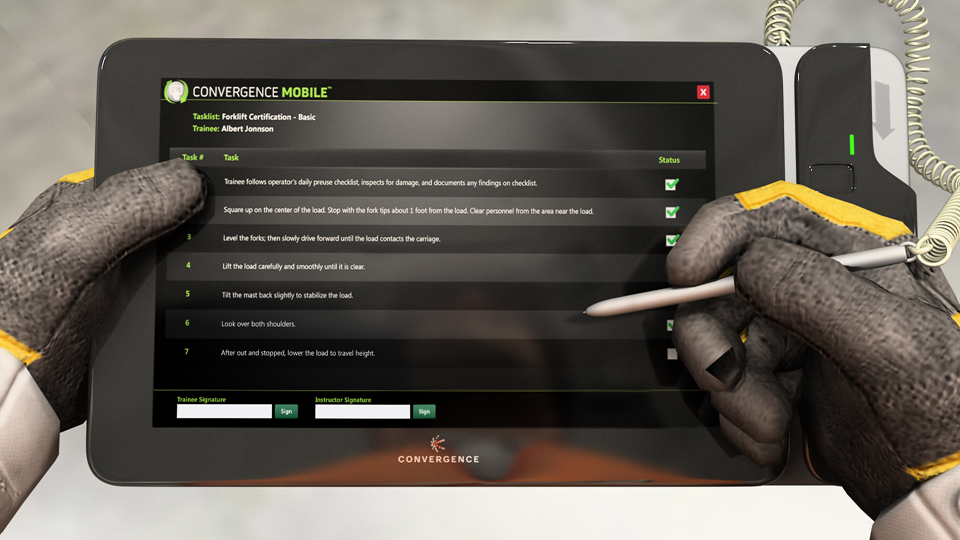 Forklift Operator Certification Requirements
Finally, 1910178 also requires the that the employer certify the training completion and keep records. Here it is from the horse's mouth:
"The employer shall certify that each operator has been trained and evaluated as required by this paragraph (i). The certification shall include the name of the operator, the date of the training, the date of the evaluation, and the identify of the persons performing the training or evaluation."

Source: 1910.178(l)(6)
Wouldn't it be great if you could get a tool to take care of all this so you don't have to? Well, you can! The LMS we told you about earlier.
For a better idea of how these work, watch this short overview video.
Conclusion: Blended Learning Forklift Training Can Make Your Forklift Operator Training More Effective
What's not to like, huh?
Leave your thoughts and comments below, don't forget to check out this online forklift training, and of course please help yourself to the free Blended Learning Solutions Guide below as well.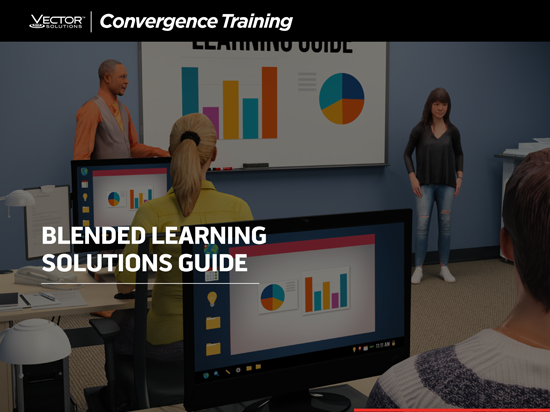 Guide to Blended Learning Strategies
Learn the importance of using differing training delivery methods and get some tips for selecting the right training method for each training need.