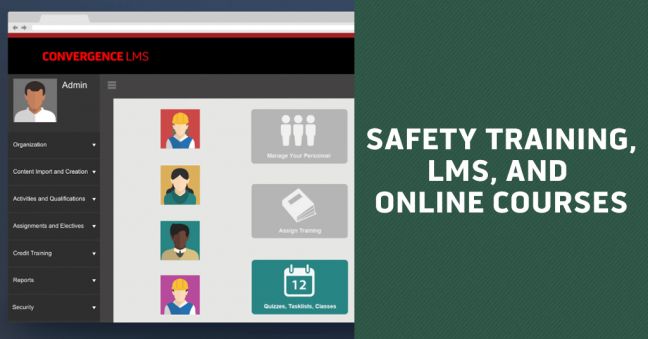 I work with a lot of busy safety managers who are trying to improve their safety training programs. They're typically looking for ways to use their time more efficiently while creating better training programs that have a real effect on their employees' behaviors.
They hope they can reach these goals by using one of our learning management systems (LMSs) , or some of our 3D-animated online safety training courses, or both. And it's true, they can.
Using an LMS and e-learning courses can save you time and also let you provide better safety training. But how? Well, some of the way are probably pretty obvious to you, and others may be things you haven't thought of. Let's break it down and consider some reasons.

How an LMS Can Save You Time and Make You More Efficient
A learning management system, or LMS, is an online software application you can use to manage all of your safety training, whether the training occurs online, in a class, or in the field. For a general introduction to LMSs, check out our What Is an LMS? article.
An LMS can save you a ton of time by automating clerical and scheduling chores. This includes:
Coordinating and scheduling training assignments
Creating records of completed training
Storing those records
Finding those records later for audit purposes
Informing department managers of employees' training status
Changing training assignments when workers change jobs
Running reports
Notifying workers of their training obligations
Having an LMS do all this for you lets you do other things that are more useful with your own time. Wouldn't you rather be leading instructor-led training on safety topics? Holding safety meetings?  Walking around and observing the work place? Performing job hazard analyses (JHAs)? Talking with employees? Investigating near misses or performing incident investigations?
Or do you really want to spend hours creating formulas in Excel spreadsheets and searching down paper-based documents in manila envelopes stored in metal file cabinets in the office on the other side of the plant?
How an LMS Can Help You Deliver Better Safety Training
Efficient is nice, but effective is even better.  After all, you want to cut down on safety incidents and near-misses. So how can an LMS make your safety training more effective? With an LMS, you can:
Reduce the amount of time you're performing clerical work, so you can spend more time leading safety training sessions and/or performing other critical safety tasks
Use a variety training materials, so you can take advantage of the different features of each–for example, the sophisticated visuals and built-in testing that online safety training courses can provide
Ensure that all new employees receive their initial safety training
Help you manage refresher or annual training requirements so safety topics stay fresh in your employees' minds
If you currently feel like you're swimming upstream to make your safety training program more efficient and effective, some of the items listed above should really hit home.
A Blend of Training Delivery Methods for Your Safety Training
Now, let's turn our attention to some of the benefits of using online safety training courses in your safety training program.
Learning and development professionals will tell you that there is NO single type of training that's always better than the others. That means that instructor-led classroom training isn't always better than online learning or written materials. And likewise, it means that online training isn't always better than instructor-led training. In fact, research backed with studies and evidence shows that training of different types can be equally effective.
For more about this, see our interview with noted learning research Dr. Will Thalheimer in which he talks about the effectiveness of elearning and other forms of training (which is based on a meta-study he created).
Following along with the expert advice and the evidence, we recommend using e-learning courses, instructor-led training, and other types of training as part of a blended learning solution for safety training. And our LMS will help you do that. Although we'll focus on online safety training courses below, check the following articles for more about blended learning and forms of training other than online:
How Online Safety Training Courses Can Make Your Safety Training Better
When using a blended learning solution, pick and choosing the best type of training to suit each particular training need.
While making that decision, here are some of the ways that online safety training can help improve the blend for you and make your overall safety training more effective.
Teach concepts and ideas with sophisticated visuals that can't be explained visually, in simple drawings on a white board, or even viewed out in the field (for example, an "interior" view of a closed machine)
Allow employees to advance through training at their own pace instead of the "default" pace chosen by the instructor in a classroom setting
Provide feedback to employees who might be too shy to ask specific questions in front of coworkers
Provide practice questions so the employee can judge his or her own level of understanding
Allow workers to review training on their own days, weeks, or even months after they viewed it initially
Allow safety trainers to reserve their face-to-face training time with employees for the opportunities when it provides the most value (as discussed in the section above)
Provide the same, standard, consistent training message every time to every employee
Why not use online training courses to add these benefits to your existing safety training program? As an analogy, consider your toolbox at home. Sure, maybe your hammer works great for a lot of things. But just imagine what you can do if you add a new tool, such as a screwdriver, to your toolbox. The same is true with safety training. Sure, instructor-led training is great, but adding onlin esafety training courses to your training toolbox will make things that much better.
How Online Safety Training Courses Can Save You Time
The primary reason to consider using online safety training courses in your safety training program is that they'll increase the effectiveness of your training. And that will help you reduce the risk of safety incidents.
But that's not the only benefit. You've got a limited number of hours in each day, so you'll want to use them as wisely as possible. Using online safety training courses as part of your safety training program can help you make better use of your time as well.
Here are some ways that using online safety training courses can help you save time. Remember these are in addition to the ways that using an LMS can save you time:
Explaining basic, foundational training information that is conveyed just as effectively online as it is in person (or maybe even more so)
Providing training in two parts, using e-learning courses to deliver information to workers and then holding an instructor-led session to take questions or explain finer details
Providing periodic refresher training after a safety topic has been covered initially in an instructor-led format
Easing assessment issues to determine if employees understand safety basics through the use of automated online testing (may you never again have to grade a paper-based test)
Given the tight budgets and staffing issues that training departments face, why not take advantage of the time-saving features of online safety training courses? You can use some of those time savings for other safety-related responsibilities.
Conclusion: Online Safety Training Using an LMS and Online Safety Training Courses
Who doesn't want their safety training programs to be both (a) more effective and (b) more efficient? I'm sure you do. And that's why so many safety trainers I work with are excited when they begin using an LMS and online safety training courses as part of a blended learning solution.
To learn more, watch our brief Convergence LMS overview video (immediately below), check out the related articles (linked below that), and/or even download our free Online Safety Training Buyer's Guide checklist (below that).
Here are some additional articles about online safety training you may find helpful:
And here are some additional articles about LMSs that you may find helpful:
And finally, here's that free Online Safety Training Buyer's Guide Checklist we mentioned. Feel free to download it.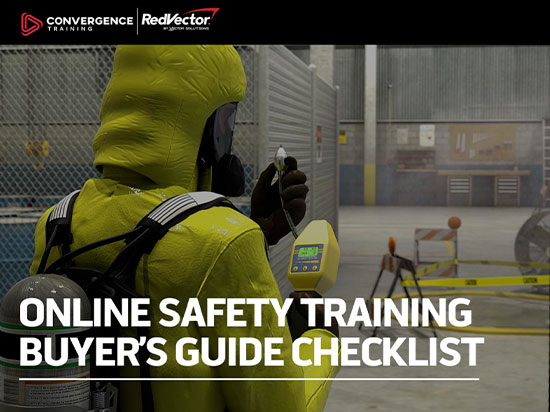 Online Safety Training Buyer's Guide Checklist
Learn how to evaluate different online safety training solutions to find one that best fits your company's needs with our FREE informative guide and checklist.