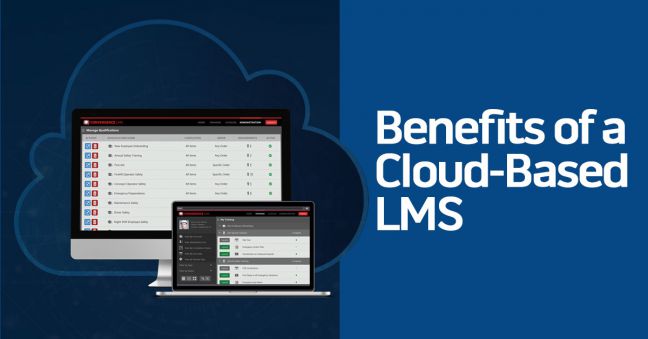 If you're trying to find the right learning management system (LMS) solution for your workplace, you might be wondering if you should have your LMS installed on your company's network or if you should get a cloud-based LMS.
Or perhaps you haven't gotten quite that far, and you didn't know you could get a cloud-based LMS. Or maybe you're not even sure what the cloud is or why you'd want a cloud-based LMS.
If any of this sounds familiar to you, then you'll appreciate this article, in which we tell you what you need to know about cloud-based learning management systems (LMS).
First Things First: What Is a Learning Management System (LMS)?
Since you're reading an article about cloud-based LMSs, you probably know what an LMS is.
However, just in case you don't, a learning management system (LMS), here's the short version of the story: an LMS is software application you can use to manage and administer your training program. This can include lots of stuff, such as:
Creating training content
Importing training content
Assigning training content
Tracking training completions
Reporting on training
And more
That's the short version. For more, check out our What Is an LMS? article or one of these other LMS-related articles listed below:
And finally, you may find this quick overview video explaining a few features of the Convergence LMS helpful.
Then What Is the Cloud?
So then, now that we know what an LMS is, what is the cloud?
Basically, it's one or more computer servers out on the Internet.
Sometimes, when people talk about the cloud, they're really just talking about one server that's not at your workplace but that you can access using the Internet. And in those cases, a software application such as an LMS plus all the data inside the LMS can be stored on that remote server that's not on your network.
Other times, when people talk about the cloud, they're talking about a network of servers all linked together through the Internet. This is sometimes also called the "distributed cloud." And in those cases, the LMS plus all the data is hosted on one or more of those networked servers. Here's how Microsoft explains it in their explanation of Azure.
So a simple way to think of it is that when people talk about the cloud, they just mean you access the software and data from computers out on the Internet and not from your own personal computer or the servers for your work network.
So What Are Some Benefits of Having a Learning Management System (LMS) Hosted on the Cloud?
Now that we know what an LMS is, and what the cloud is, the next logical thing to wonder is why would it be to a company's benefit to have an LMS that's hosted on the cloud instead of on their own network server.
Below are just a few reasons why you might want to consider a cloud-based LMS.
Faster Set-Up Time
Set-up time with a cloud-based LMS will be much faster than having an LMS installed on your network server. Who doesn't want to get going sooner?
Easier, Faster Implementation
Implementation of a cloud-based LMS is typically much faster, as there are fewer (or no) installation hassles or other IT challenges.
More User-Friendly
Cloud-based LMSs are often build along the lines of other websites people are commonly used to these days, such as Facebook, making them easier to learn and use.
More Scalable
A cloud-based LMS is more scalable, allowing you to begin with fewer employees that require training and more easily build that number up over time.
Less Expensive and with More Scalable Pricing Options
You're also like the price, as cloud-based LMSs are often less expensive. Plus, producers of cloud-based LMSs
Increased Accessibility Without Being on Network and/or VPN Connection
Because a cloud-based LMS is on the Internet, it's easier for you and your employees to access it from anywhere to administer and complete training. No need to be at work, on the network, or to VPN in.
Fewer (or No) IT Requirements
Cloud-based LMSs come with their own built-in IT team (the LMS producers) so you and your company won't have to worry about IT and other tech issues.
Faster, Easier, More Frequent Updates
Because the cloud-based LMS is on the Internet, it's much easier for the LMS provider to update it frequently. This means less hassle, less downtime, increased reliability (due to easier updates), and more new features (due again to easier updates).
Better, Faster Performance
Especially if an LMS is on the so-called distributed cloud, you'll enjoy better, faster performance. This point is even more true if you're using your LMS to deliver training to multiple locations.
And of course, as training these days includes more and more bandwidth-gobbling video, this is a great benefit.
Improved Data Security
Cloud-based LMSs are built to meet the most exacting data security requirements and are more frequently updated to stay additionally secure.
Better for Delivering Training to Multiple Locations
As we've mentioned briefly already, a cloud-based LMS is a great
More Mobile Learning Friendly
Cloud-based LMSs, built with responsive design, are ideally suited for allowing workers to use all sorts of mobile devices to take their training.
Saves Network Bandwidth
Why not move some of the bandwidth off your network servers, effectively "outsource" that, and use your own bandwidth for something else?
More Continuous Performance Monitoring
Most cloud-based LMSs will have built-in, automatic, 24/7 performance monitoring. Should there be even a hint of a slowdown, the LMS providers will be notified and will begin acting more quickly than is likely to be case if the LMS is on your own personal network.
Fewer (or No) Maintenance Responsibilities
Hey, do you really want more software and IT maintenance responsibilities at work? Why not let someone else handle this for you?
More Reliable Disaster Recovery
And, of course, should things really go south, you'll find that a cloud-based LMS is typically backed up with powerful, robust disaster recovery capabilities.
Conclusion: A Cloud-Based LMS May Be Just What You're Looking For
If you're looking for an LMS at work, we believe you'll find the benefits of an LMS on the cloud very attractive. To learn even more about the benefits of a learning management system in the cloud, check out this Everything You Need to Know about an LMS Based in the Cloud article by our parent company, Vector Solutions.
Let us know if you have any questions, and before you go, be sure to download our free LMS BUYER'S GUIDE, below.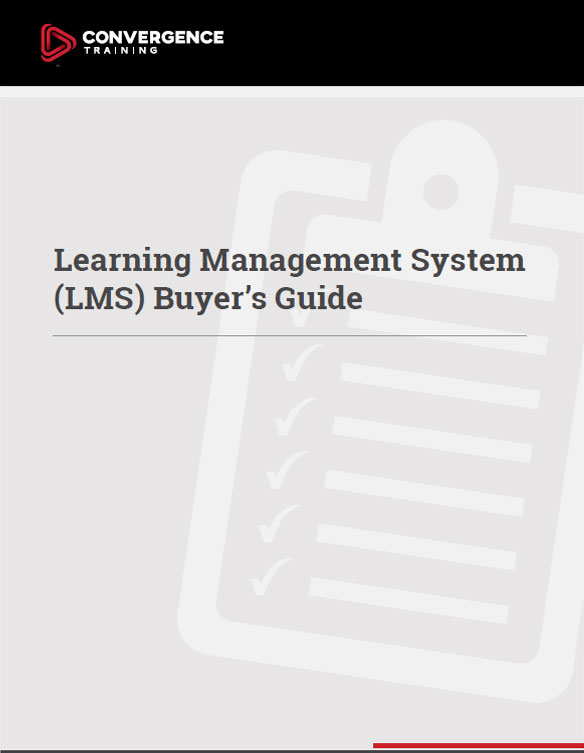 Learning Management System (LMS) Buyer's Guide
Learn what you need to know BEFORE you begin your search and get a free checklist to guide you, too.