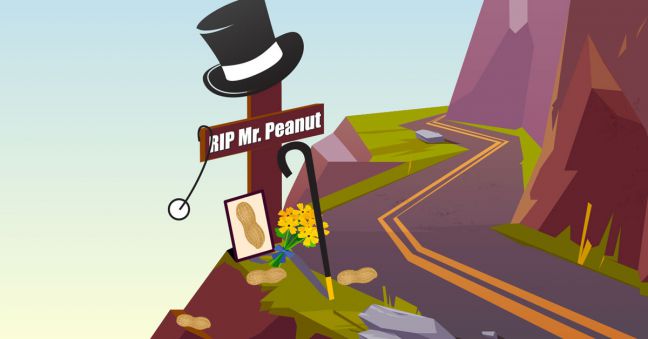 Holy peanut weavil! Mr. Peanut was always one tough nut to crack. After all, he's been assaulted many times over the years.
But we're sad to note that everyone's favorite peanut, or maybe even everyone's favorite legume (did you know that peanuts aren't really nuts but instead are legumes?), has died at the age of 104.
That's only 26 in legume-years, so it's really quite young and tragic.
Our elegant, dapper, yet crunchy buddy died in the aftermath of a Nutmobile accident this past week. Rumor has it the accident happened shortly after he stopped at a Shell station to fill up.
The good people at Planter's have led a weary nation to believe that we'll learn more about this during the Super Bowl, so stay tuned for that. But remember, when the game's over and they're handing out trophies and announcing awards, we all know who the true MVP-nut is.
Although you could argue that providing safety tips won't help our plucky, perished peanut now, and we'd be forced to agree, that won't stop us from offering the three belated safety tips below based on events in his apparent untimely demise.
First, for those who are unaware, here's what we know of the pathetic peanut perishing (Don't worry, there are no grisly scenes involving peanut butter or brittle.)
Read on for those safety tips!
It's sunny, you're on a road trip with some friends, and everyone's having a good time, singing songs and generally getting nutty. We've all been there and understand the pull of distraction. But let this be a lesson to all you out there–keep your eyes on the road.
It's not enough to just avoid distracted driving. That's only one nut inside the safe-driving peanut shell. The other nut involves active measures like recognizing driving hazards. In Mr. Peanut's case, the hazard was a tortoise in the middle of the road.
The Tortoise and the Hare we've heard of, but I guess we'll need a new Tortoise and the Peanut fable now.
FALL PREVENTION AND PROTECTION
Does a standard fall protection harness fit the shapely contours of a peanut? Safety pros out there know that's a trick question, because it's counting on PPE instead of higher-levels of the old safety chestnut, the hierarchy of controls.
Observant readers may be wondering if a chestnut is a nut or legume. A chestnut is, in fact, a nut. Now you know. 
Anyway, when it comes to wondering what the fate of this delicious snackable treat would have been had proper fall prevention and and protection been in place, we're left hanging.
FLAMMABLE AND COMBUSTIBLE MATERIAL SAFETY TRAINING 
Nobody can deny the allure and great taste of a roasted peanut. But it's important to remember that while we all appreciate dry roasting, you don't want to burn your legumes.
Roast in peace, Mr. Peanut. 
We at Convergence Training & Vector Solutions will join the rest of the nation, and indeed the world, on Super Bowl Sunday to learn more about the fate of this old companion. And until then, we invite you to read some of other humor-based safety training blog posts:
Until Sunday, then, download our free 10 Steps of Implementing Safety Management infographic, below.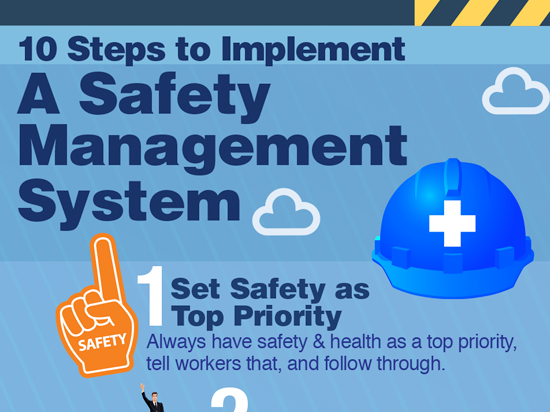 Free "Get Started with Safety Management" Infographic Download
Download this free infographic listing first steps in getting started with your safety and health management program. These steps are based on OSHA 3885, Recommended Practices for Safety and Health Programs (general industry).