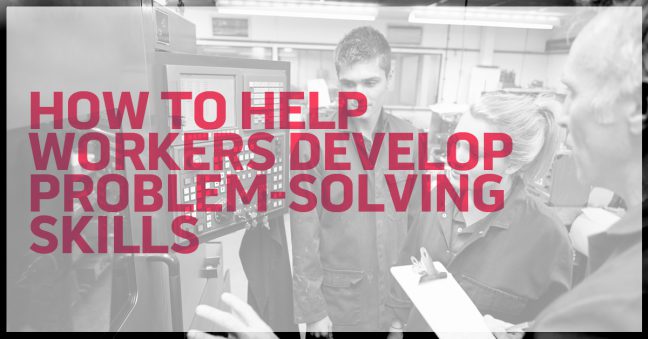 Work is easier when everything goes perfectly and there are no problems.
But as you probably know, "perfect" is a rare state. Problems pop up from time to time and workers need to solve them.
As a result, it's important that workers be effective problem solvers. Having a workforce with well-developed problem-solving skills is a significant competitive advantage for a company.
All workers benefit from strong problem-solving skills. For example, we have a customer who led a training system upgrade for a major, multi-site manufacturing company in the United States (they make common household products and the odds are very good you've used their products). He would often tell me that he wanted to "help his machine operators become machine engineers."  (Hello to you, Steve, if you happen to be reading this.)
What our customer Steve meant by that was, at least in part, that he wanted workers to have problem-solving skills so they could address problems on their own at work to decrease downtime, increase efficiency, and maximize production.
But those problem-solving skills don't come "built-in" to every person. And even those with a natural knack for it can always get better, or learn to apply those skills more effectively in a given work circumstance. And as a result, it's a good idea to provide resources to help workers develop and use problem-solving skills at work. That's what this article will focus on.
In addition to this article, also feel free to check out our article on Continuous Improvement at Work, as problem-solving is also a big part of continuous improvement and that article provides a long list of tips to help with problem-solving and continuous improvement.
(more…)