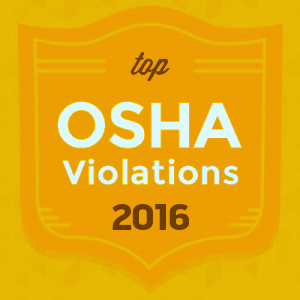 (Hi there! We've recently updated this article to include additional data and insights. Please click to read our new article about OSHA's Top Ten Violations List for 2016.)
Every year, OSHA releases its list of the ten most cited violations from the previous fiscal year.
They do it in two stages, actually. In October, they release a preliminary list, and then they release a second, expanded version of that list with more data later in the year.
As our friend Mr. Calendar makes clear, it's October, which means it's time for that initial list. And just like clockwork, OSHA's done it. They've released their "preliminary list of the 10 most frequently cited safety and health violations" for fiscal year 2016. We got the news from the OSHA blog.
And also just like clockwork, we're getting that information to you as quickly as we can.
We've got the list for you below. We've also included links to additional webpages related to each of the commonly violated standards–the additional pages include free training materials, fun word games, interactive glossaries, additional helpful information about the regulation and how to avoid violating it, free safety checklists, and more. We've also included some samples of relevant health and safety eLearning courses for each standard.