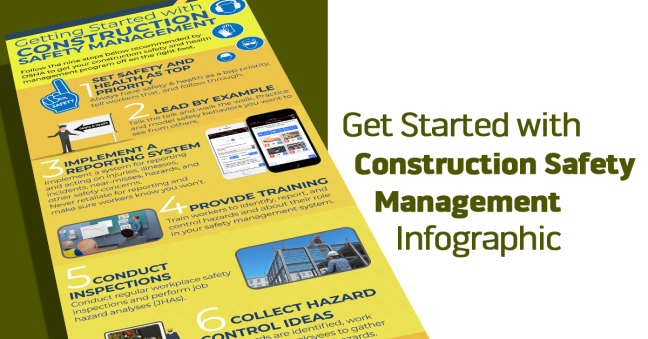 You can improve your occupational safety and health management at work by moving away from a focus on compliance to incorporating a safety management program (or system) that's more comprehensive and self-reinforcing.
To help you with that, in 2016 OSHA published OSHA 3886, Recommended Practices for Safety and Health Programs in Construction. Take a moment to download that document now and save it on your computer…we'll wait right here.
Are you back? We hope you enjoy that OSHA document, and to help you get started on this effort at work, we thought you might like to download the free infographic below, which gives you 9 simple steps for getting started on construction safety management (the steps are drawn from the OSHA document we just linked you to).
Also, once you've download this infographic, you might also want to download the companion Core Elements of Construction Safety Management infographic we made too.
Enjoy this and good luck with your construction safety management efforts!