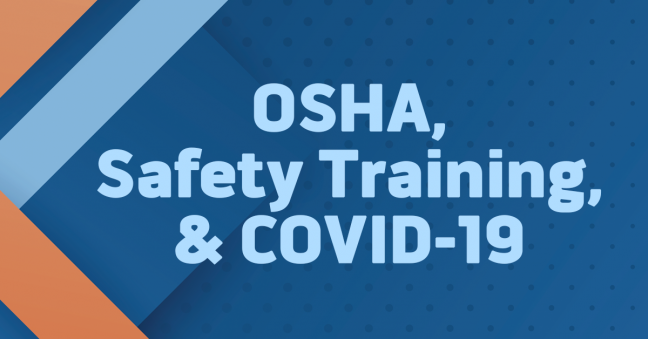 Two quick notes: Since we originally wrote this article, Vector Solutions (the parent company of Convergence Training) created free online COVID-19 training courses for people to watch. You can view them here.  Also, since we published this article, OSHA has released an update on Safety Training Requirements for COVID-19…please check that link you just passed for our explanation on OSHA's requirements. 
The COVID-19 pandemic has created many changes in society and at work. For those companies that are still operating, and for those employees who are still working, safety training and in particular mandatory, compliance-based safety training, is a serious consideration.
What's the best way to complete mandatory safety training, and stay in compliance with OSHA requirements, during this pandemic? In particular, how to do this and still maintain the social distancing requirements of six feet personal separation? And, given the novel status of the COVID-19 virus, the fact that we're still learning about COVID-19 and transmission routes, and increasing concern and evidence that the virus may be aerosolized and people could possibly be infected by an infected (but asymptomatic) person who is simply talking or breathing, is six feet of separation enough? Is face-to-face safety training a good idea or is it, perhaps, in some way counter to the goal of safety and health during a pandemic?
Can online safety training be used to avoid face-to-face compliance-based safety training or minimize it during the pandemic?
We'll try to cover these issues in this article, explain what we know about OSHA's current safety training requirements, and give you some tips for integrating online safety training into your safety training program while still staying in compliance with OSHA regulations in this article.
We wish you all good health and safety during a difficult time. Please feel free to use the comments section to share any tips or information you may have on these topics.
We encourage you to read teh article below, but you might want to know that our own Jeffrey Dalto, a member of the ASSP Z490 committee and a contributor to the ANSI/ASSP Z49.2 national standard for online EHS training, recently talked about OSHA Safety Training Compliance and COVID-19 for the ASSP podcast channel.