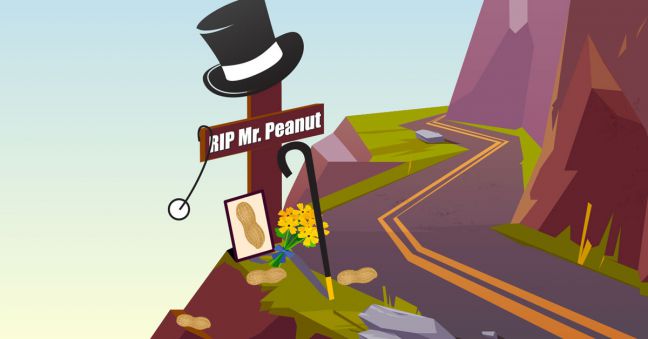 Holy peanut weavil! Mr. Peanut was always one tough nut to crack. After all, he's been assaulted many times over the years.
But we're sad to note that everyone's favorite peanut, or maybe even everyone's favorite legume (did you know that peanuts aren't really nuts but instead are legumes?), has died at the age of 104.
That's only 26 in legume-years, so it's really quite young and tragic.
Our elegant, dapper, yet crunchy buddy died in the aftermath of a Nutmobile accident this past week. Rumor has it the accident happened shortly after he stopped at a Shell station to fill up.
The good people at Planter's have led a weary nation to believe that we'll learn more about this during the Super Bowl, so stay tuned for that. But remember, when the game's over and they're handing out trophies and announcing awards, we all know who the true MVP-nut is.
Although you could argue that providing safety tips won't help our plucky, perished peanut now, and we'd be forced to agree, that won't stop us from offering the three belated safety tips below based on events in his apparent untimely demise.
First, for those who are unaware, here's what we know of the pathetic peanut perishing (Don't worry, there are no grisly scenes involving peanut butter or brittle.)
Read on for those safety tips!