This is our second daily summary of the ASSE's Safety 2017 conference. You can also read our summary of ASSE Safety 2017 Day One.
(Note: The conference is now over, so we've now published three daily overviews: ASSE Safety 2017 Day 1, ASSE Safety 2017 Day 2, and ASSE Safety 2017 Day 3).
Here's a quick overview of some of the presentations I was lucky enough to catch on Wednesday.
Keynote Presentation by Mel Robbins
Confession-I missed this. I stayed in the hotel and wrote the Day One summary. But I DID hear from a handful of people who attended, and they seemed to enjoy it. A key point seemed to be something about facing up to challenges in life, counting to 5, then moving ahead to succeed. Never a bad reminder–keep trying. I've been there, to be sure.
Flash Presentation on Safety and Business Excellence by Kathy Seabrook
I have caught a number of presentations framing safety within the context of business excellence and find the idea intriguing. Well done, Kathy.
Critical Hazards Field Guide by Kirk Mahan
Georgia-Pacific has made a strong effort to reduce critical injuries and fatalities and have addressed five critical hazards that they have found lead to most at their facilities. Kirk showed a field guide G-P created to explain those hazards. G-P uses these field guides to spark discussions with workers.
The hazards? Uncontrolled energy, falls from heights, struck by mobile equipment, fires and explosions, and exposures to chemical and/or thermal releases.
Strategic Training Design with a Bar Napkin, a Magic Wand, and Speed Dating
A really good presentation by Sharon Kemerer and Kery Mortenson of Baxter Healthcare of how they created a training program to reduce safety incidents. Got into a lot of good instructional design tips and methods.
The program involved a focus on business goals, a desired end state, impact mapping, and a rapid gap analysis.
The completed training included modules on commitment to safety; high-impact safety conversations; hazard identification; and root-cause analyses.
A good one. Worth searching this PPT out.
Establishing an Electrical Safety Training Program
Paul Zoubek quickly walked us through a handy seven-step program in 15 short minutes. Well done, Paul.
Risk Mitigation and Wearables
I got to this short, 15-minute session a few minutes late and really regretted it, because what I DID hear sounded interesting and had lots of useful information and data. Hats off to speaker Rachel Michael. I'm going to search out her PowerPoint.
Plenary Session on Behavior-Based Safety (BBS) and Human and Organizational Performance (HOP)
This was well-designed and the four-person panel (with one moderator) were really very helpful. This was so interesting I'm going to write a shorter, separate blog post about it shortly, so stay tuned.
In the meantime, did you see this one? What were your thoughts?
Team-Based Safety Training Activities
Instructor Linda Tapp taught us a handful of team-based safety training activities that we could apply in different settings in our own trainings. And, hats off to her, she did so by having us participate in the activities as teams–learning by doing, you know!
A fun and useful session.
Using Real-Life Events and Social Media to Create High-Impact Safety Training
Joseph Sanna and JoAnn Goshorn shared some tips for telling real-life stories and mining social media to create safety training that catches people's hearts and makes them pay attention.
JoAnn Goshorn shared her family's own story–her father was injured while cutting down a tree–as a way to demonstrate how accidents affect a large number of people. I admired and appreciated Goshorn for sharing her story.
What about You?
What sessions did you see? Let us know in the comments section below. And we hope to see you today!
And help yourself to the free guide below, which is based in large part on ASSE/ANSI Z490.1.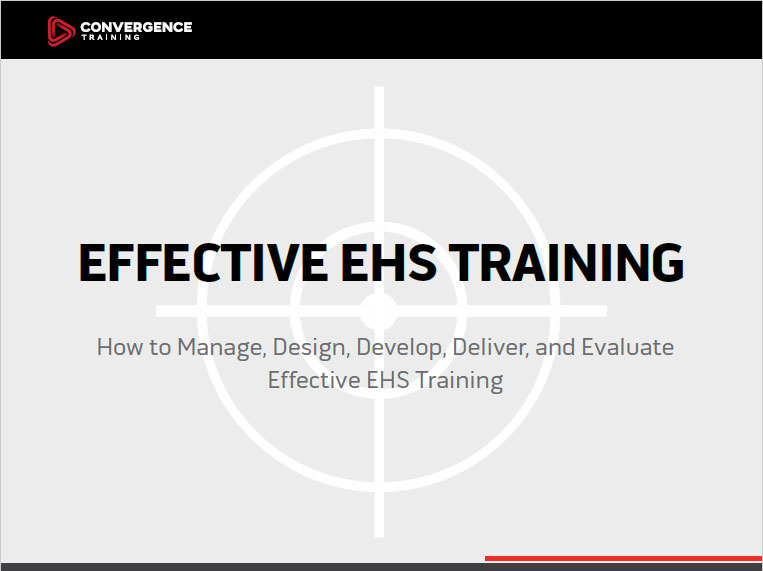 Effective EHS Training: A Step-by-Step Guide
Learn how to design, create, deliver, and evaluate effective EHS training by following these best practices with our free step-by-step guide.