We recently attended the ASSE's Safety 2017 conference in lovely Denver, CO. If you were there, maybe you swung by our booth or ran into Senior L&D Specialist Jeff Dalto at one of the presentations.
A well-deserved hats off to the ASSE, all the presenters, and all the staff involved in putting on a a great conference, including the folks who work for the Denver Convention Center. It's obviously a lot of work, it went off without a hitch, plus they dialed up some beautiful weather for us as well!
The biggest problem I had while down at ASSE was choosing between the different presentations I wanted to see. There were so many good ones, I missed some I really wanted to see (notably, one by Pamela Walaski on scaling a safety and health management system for small and medium-sized companies, but I'm happy to say she wrote a great article in the most recent issues of Professional Safety magazine on the same topic).
Before I list the presentations I saw, I want to congratulation Samantha Horseman of Saudi Aramco. She won the Safety Management Innovation Award and then gave her prize to the ASSE Foundation. Admirable stuff all the way around–good on her, and an inspiration to all of us. Kudos and huzzah!
OK, here's what I've seen since I've been there.
(Note: The conference is now over, so we've now published three daily overviews: ASSE Safety 2017 Day 1, ASSE Safety 2017 Day 2, and ASSE Safety 2017 Day 3).
Keynote Presentation by Philosopher Tom Morris
Author of many books, including "The Oasis Within," Morris was a lively, engaging, funny speaker who listed his "7 Cs for Success": Conception, Confidence, Concentration, Consistency, Emotional Commitment, Character, and Capacity to Enjoy. A bonus for mentioning ancient philosopher Zeno and recent NFL running back Jerome Bettis in the same speech.
Jonathan Klane's "Flash Session" on Non-Fiction Storytelling in Safety
Klane is with Arizona State University ("Forks Up!") and gave a good, quick reminder of the value of telling stories while talking about safety and/or delivering safety training. And even though it wasn't the stated intention of his presentation, he also demonstrated well the value of determining what "problem" you're trying to fix before developing safety training.
I am working with Klane and others to create ANSI/ASSE Z490.2, the standard on virtual safety training, so it was neat to be able to meet him face-to-face.
Roundtable on the ISO 45001 Standard
Moderated by the ASSE's one-and-only Tim Fisher, this roundtable with Victory Troy, Todd Hohn, and Kathy Seabrook was well-attended and included a few quick summaries of key clauses within the upcoming standard on safety and health management and a good Q&A session.
The speakers mentioned this was the third year in a row they've given a status update on ISO 45001 at an ASSE conference, and that this will be the last. Why? Because they expect the standard to be done and final within 12 months. So watch for that, it's a big event.
Go here for more information on ISO 45001.
What Safety Professionals Need to Know about Environmental Regulations
Salvatore Caccavalle did an admirable job of introducing attendees to the basic framework of environmental regulations in the US, noting that many safety professionals have to be aware of and comply with these regulations (often without a true environmental expert on staff).
Did you know we have a new library of online Environmental training courses? Read this blog post to find out more about our new online environmental training library and environmental regulations in general.
A baseball fan, Caccavalle exposed his love for his hometown Boston Red Sox and even dated one environmental reg as "the same year as the Miracle Mets." It's always good to see folks have a life outside work.
Humor in Safety/Safety Training
Speaker Tim Page-Bottorff did a nice job of reminding attendees that safety and safety training can be fun, and in fact should be. He demonstrated a few ways to make safety training more engaging, more active/participatory, and more memorable.
Job well done. Remember, folks, it doesn't have to be wooden or put folks to sleep. And, in fact, it shouldn't.
Safety Differently
Probably my favorite session of the day, and that's saying a lot for the final presentation of the day. Ron Gantt did a nice job of asking attendees to consider turning our conceptions of safety "upside down."
Gannt asked us to consider safely differently than we have in the past, with a focus on:
The definition of safety
The role of "the people" in safety (meaning workers)
The focus on the organization
Gantt's unusual definition of safety is "the capacity to be successful in varying conditions." He believes that people are often considered the problem in safety but instead should be considered the solution. And he thinks safety professionals and the organization should do everything they can to support the people, while believing that the organization has an ethical role to support the safety of the people.
I've read Gannt's stuff for a few years now and see him on LinkedIn from time to time, so this was a real treat for me to see him live.
For more about Gannt's ideas, check out the Safety Differently website.
What about You?
What sessions did you see? Let us know in the comments section below. And we hope to see you today!
And help yourself to the free guide below, which is based in large part on ASSE/ANSI Z490.1.
Finally, remember you can check out more daily overviews: ASSE Safety 2017 Day 2 and ASSE Safety 2017 Day 3.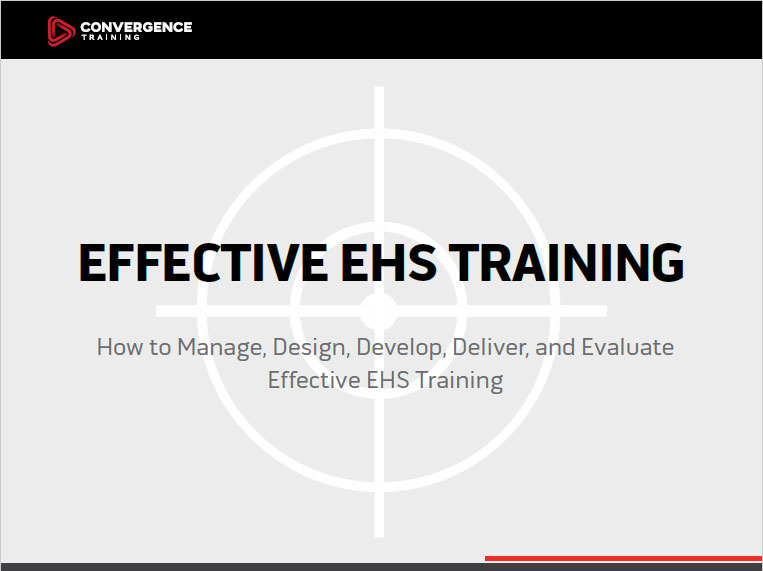 Effective EHS Training: A Step-by-Step Guide
Learn how to design, create, deliver, and evaluate effective EHS training by following these best practices with our free step-by-step guide.