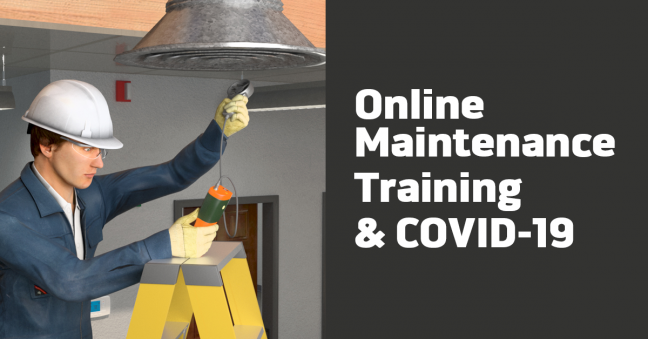 Companies have been using online training more and more in recent years. But this COVID-19 pandemic, which really became an issue in the United States in early 2020, is making all sorts of companies think even more about using different forms of online training to help transfer knowledge to their employees while assisting employees in the continued development of skills.
Just like any other department, maintenance departments are thinking the same thing, thinking of safe ways to deliver training to maintenance techs while observing social distancing and trying to prevent passing a dangerous viral infection from worker to worker.
In this article, we'll discuss a few different types of online training in this article and give you some tips for getting some online training to your maintenance techs instead of using instructor-led training.
What Is Online Training?
You can deliver training online in a variety of ways. These include:
PDFs
PowerPoints
Photos
Videos
Live webinars
Recorded webinars (a video)
Podcasts (recorded audio)
Virtual classrooms (a live webinar that's been designed to simulate an instructor-led classroom training session)
Online discussion boards and wikis
And more
So that "online training" bucket is pretty diverse.
When you're using online training, it's best to use what learning professionals call a blended learning solution. This means you'll use more than one different types of training. Frequently, when people talk about blended learning, they're talking about mixing instructor-led classroom training with elearning courses. But you can see you could make a nice blended solution using nothing but different forms of online training. For example, have people read a PDF, attend a virtual classroom, then follow-up with some short elearning courses to improve retention.
Is Online Training Effective?
This is an important question. The short answer is: yes.
This goes beyond the scope of this article, but different types of training are more or less effective depending on what you're trying to have the learners perform. So you've got to start by thinking about the learning outcomes you want to create and then select the type of training.
But in general, it's not the training delivery method (instructor-led training, online deliver, etc.) that influences the effectiveness of the training. Instead, it's the instruction methods embedded within the training (demonstrations, opportunities for practice, feedback, repetition, visuals, etc.) that make the training effective or not effective.
So any training in any delivery method can be effective or ineffective depending on what instructional methods are used. Think of your own experiences–you've probably sat through bad instructor-led classroom training and taken bad online training, and on the flip-side you've probably also experienced great instructor-led training and online training.
To learn more about this, please check out the book Evidence-Based Training Methods by learning researcher Dr. Ruth Colvin Clark and this discussion with learning researcher Dr. Will Thahlehimer based on his book, Is eLearning Effective: What the Research Shows! 
What Technologies Are Involved in Online Training?
This question breaks down into three basic answer categories:
Technology needed to make the online training
Technology needed to distribute the online training so employees can view and complete the training
Technology needed to view & complete online training
Let's briefly look at each.
Technologies to Make Online Training
You don't need anything super-fancy to make some forms of online training.
After all, you can make PDFs and PowerPoints with the basic Microsoft Office Suite. Plus, most of us have a phone that can take great photos and record great videos. Likewise, you can use a phone or something like Zoom, which is free, to record audio for a podcast.
If you want to make your own elearning courses, there are a number of great elearning authoring tools on the market. And better yet, they often come with something like a 30-day free trial.
Of course, in addition to making your own online training materials, there are any number of online training providers who can help you as well.
Technologies to Deliver/Distribute Online Training
Again, you don't necessarily need anything too fancy to distribute/deliver online training to employees.
The first thing you'll need is access to the internet and/or your company's intranet.
It may not be perfect, but you can do some of it with your current email program, with the messenger service you use at work, via text messages, or with workplace collaboration tools like Slack or Trello.
Likewise, you can create links to learning activities and put them on your company SharePoint or intranet.
Of course, you can also use a webinar platform.
And, you could consider a product known as a learning management system, or LMS. An LMS is a web-based software application that can be installed on your organization's server or, more commonly these days, accessed via the cloud. An LMS will allow you to do all of the following and a lot more:
Import training materials
Create online training materials
Assign training materials
Notify employees and supervisors of assignments and due dates
Deliver online training
Create and store completion records
Run reports on training completion and more
For more about learning management systems, read our What Is an LMS? article and download our LMS Buyer's Guide. It's also nice to know that many LMSs have dedicated apps to make them mobile compatible.
The video below explains a few of the benefits of an LMS.
Technologies Needed to View and Complete Online Training
Your employees are going to need access to the internet, of course. Plus they'll need a device for viewing–a desktop computer, a laptop computer, a tablet, or a mobile phone.
What Are Simple and Easy Ways to Create My Own Online Training Activities?
If you're going to try to transition from instructor-led training to online training today, here are a few general tips:
Don't try to do it all right away; start with the most critical training
Before you begin to create training, see if you can create performance support people can access when and where they need it first
It's OK if you're in crisis delivery mode and your training isn't perfect
But don't just shovel out garbage, either
We've written a series of articles with a lot more detailed information on this. Check these out:
We hope you find those helpful.
Can Convergence Training, RedVector, and/or Vector Solutions Help Us with Online Maintenance Training
Sure. We make online maintenance training courses, learning management systems, mobile apps for training, safety management software, incident management systems, workforce scheduling and audit tools, and more. Contact us if you'd like to ask some questions, and feel free to watch the video below with some highlights from our 3D-animated online maintenance training courses.
How Does OSHA Compliance and Safety Training Fit into All of This?
We wrote an entire article about this. Check out our OSHA Safety Training Requirements & COVID-19 article to learn all the ins and outs.
Conclusion: Online Training ALWAYS Made Sense; With the COVID-19 Pandemic, it Makes More Sense Than Ever
There's always been a role for online training, and this pandemic has made online even more important. If your company hasn't been using online maintenance training, now is a good time to start. Likewise, even if you've already been doing some learning online, you're probably trying to find ways to do more now.
We hope this article has helped you and we invite you to let us know if you need any help or have any questions about online training. And of course we hope you stay safe and healthy in a difficult time.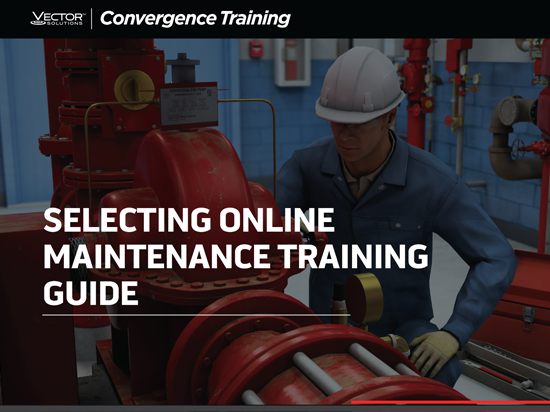 Free Guide to Selecting Online Maintenance Training
Download this free guide to discover everything you need to know to select and use online maintenance training, including courses, learning management systems, and providers.