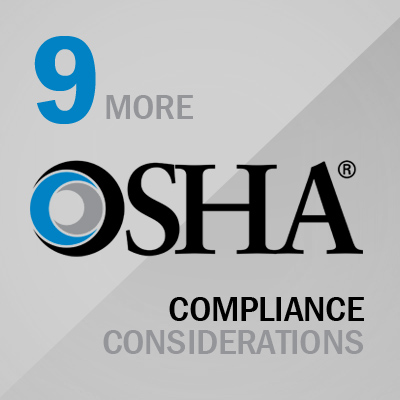 This is the second of a three-article series looking at OSHA compliance requirements for general industry employers.
In our first article, we looked at six compliance requirements that OSHA believes apply to most general industry employers. In this article, we'll look at an additional nine compliance requirements that OSHA believes may apply at general industry employers in addition to the five identified in the earlier article. And in the third (and final article), we'll draw your attention to five additional compliance considerations that OSHA notes.
If you're wondering how we know what OSHA things about this, it's because they were nice enough to lay it all out in their handy online Compliance Assistance "Quick Start" Guide for General Industry. So that's where we're getting the information about what OSHA thinks most companies will have to comply with and what OSHA thinks many companies may have to comply with in addition.
If you haven't, write a note to yourself to check it out soon. We've provided a link to it for you to review later.
But for now, enjoy our overview below.
OSHA Requirements That MAY Apply to Your Workplace
In Step 2 of the OSHA Compliance Assistant Quick Start Guide, they list requirements that MAY apply at your general industry workplace.
The requirements dealt with in this section relate to:
Machine guarding
Lockout/tagout
Electrical hazards
Personal protective equipment (PPE)
Respirators
Noise
Confined spaces
Blood or bodily fluids
Powered industrial trucks
OSHA also warns that this section, almost by definition, "is not comprehensive." They continue, noting that "additional OSHA standards may apply to your workplace." To be sure you're addressing all standards, OSHA says to "be sure to review OSHA's general industry standards (29 CFR 1910) for other requirements" and "in addition, section 5(a)(a) of the Occupational Safety and Health Act, known as the General Dusty Clause, requires employees to prove their employees with a workplace that is free of recognized hazards likely to cause death or serious physical harm."
Given that caveat and the need for additional research to match the circumstances and hazards at your workplace, let's look at some of the requirements that OSHA did identify that may apply for most employers.
We'll give a quick overview of what OSHA discusses in each section,  and we'll list out and link to helpful resources that OSHA provides for each section as well.
In addition, we'll give you some tips for training your workers on topics related to each of the sections. In doing that, we'll provide some sample videos from our EHS eLearning library. Here's a quick overview video of just a few of the highlights from those courses:
As you read, remember we're focusing on the general industry suggestions.
Machine Guarding
OSHA offers a lot of help with machine guarding including:
Of course, employers should provide training to employees on Machine Guarding as well.

Lockout/Tagout
Lockout/tagout requirements for energy control and isolation apply in many circumstances at work.
To help, OSHA's got these resources for you:
You should also consider training employees on lockout. This training could depend on their role in the lockout process.
For example, training about Lockout/Tagout for Affected Employees  may be suitable for some employees.

While training about Lockout/Tagout for Authorized Employees may be suitable for those fulfilling the authorized employee role.
Electrical Hazards
Most workplaces include electricity, and as a result most workplaces include electrical hazards.
To help you meet compliance requirements, OSHA offers the following related to electricity:
When it comes to training employees about electrical hazards, you can address a number of topics.
Training on electrical safety general awareness might be a good start.

Continuing the basic/introductory theme, training that covers the hazards of electric shock may also be a good idea. Remember that what is obvious to you may not be obvious to all employees.

And a lot of workers may not be familiar with, and may even have never heard of, arc flash, so this may be another topic to cover.

In addition, training about OSHA General Electrical Requirements may be suitable for some employees.

Personal Protective Equipment (PPE)
It's often necessary for workers to use personal protective equipment, also known as PPE, to provide protection against specific hazards at the workplace.
Note: Keep in mind, though, that PPE is considered a "last resort" for keeping workers safe. Read our article about the Hierarchy of Controls for more about this (there's even a free eLearning course you can download).
Resources that OSHA offers to help you comply with requirements related to PPE include:
When it comes to training workers about PPE, that of course depends on the specific hazards at your workplace and the PPE your employees must use to protect themselves.
As we mentioned earlier, one good place to start might be providing training on the Hierarchy of Controls so employees better understand the role of PPE within the larger context of hazard control.
In addition, you might consider offering basic training on PPE to raise awareness of the issue.

From there, you can provide additional PPE training based on the specific hazards at your workplace and the specific PPE your workers will need.
Depending on the circumstances, training on a topic like Fall Prevention and Protection might be appropriate.

Respirators
There is a wide range of respiratory hazards that can exist in a workplace, and as a result a wide range of controls (including various respirators) may be put into effect.
OSHA offers the following helpful resources involving respiratory hazards, respirators, and compliance related to respiratory hazards:
As for training workers, a good place to start might be by covering basic information about respiratory hazards and respirators.
Then, depending on the conditions at your workplace, the hazards, and the respirators used, you may consider additional training on topics like these:
Noise Exposure
Many companies will also have to comply with requirements involving noise in the workplace. As OSHA puts it, "Employers whose employees are exposed to excessive noise (e.g., conditions that make normal conversation difficult) may be required to implement a Hearing Conservation program."
OSHA offers the following resources to help comply here:
Turning our attention to training employees, a good place to start would be to provide training on the basics of noise exposure and hearing protection.
Confined Spaces
Yet another compliance issue may arise if confined spaces exist at your workplace, and/or if workers will ever enter those confined spaces.
OSHA offers the following resources to help comply with issues related to confined spaces:
When it comes to training employees about confined spaces, a good place to start might be some training that raises awareness about confined spaces.

After that, some employees may benefit from training about permit-required confined spaces and procedures for entering them.
Blood or Bodily Fluids
Next, OSHA notes that "If employees may be exposed to blood or bodily fluids as part of their assigned duties, you may be subject to OSHA's Bloodborne Pathogens standard."
Here's what they offer to help you comply:
And when it comes to training, a good place to start might be a general course to explain the basic nature of the hazard that bloodborne pathogens pose and standard methods of protection.
Powered Industrial Trucks
The last thing that OSHA notes in this section of the guide, other than the fact that the section isn't comprehensive and you may face additional compliance requirements not listed in the section, is that you may have to comply with requirements related to forklifts and other powered industrial trucks (PITs).
To help you comply, OSHA's got the following:
For training, you might want to start with some basics about forklift hazards and safe forklift operating procedures.

Training on Portable Loading Dock safety could also be helpful for reducing safety incidents with PITs.
In addition,  training on mobile equipment and pedestrian safety  might also be relevant for training operators of PITs at the workplace as well as other employees.
Conclusion: OSHA Compliance Requirements that MIGHT Apply at Your Workplace
That's it for our look at the compliance requirements that might apply at a typical, general industry employer's workplace.
Remember that this is the second article in a three-article series. In the first article, we looked at six OSHA compliance requirements that apply to most general industry employers. In this article, we looked at an additional 9 compliance requirements that many companies face. And in the third article, we'll look at five additional considerations for OSHA compliance.
As always, we invite you to leave questions and comments below. And good luck with that compliance!
To help, why not download the free guide to effective EHS training below?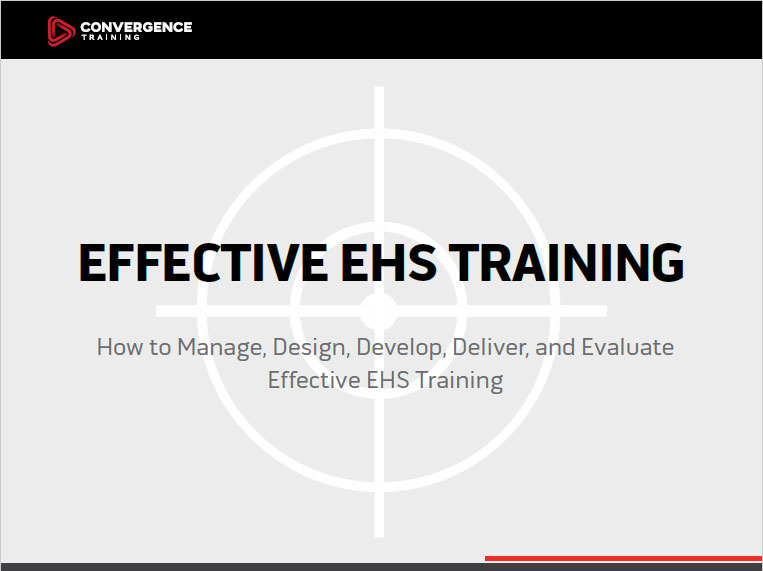 Effective EHS Training: A Step-by-Step Guide
Learn how to design, create, deliver, and evaluate effective EHS training by following these best practices with our free step-by-step guide.