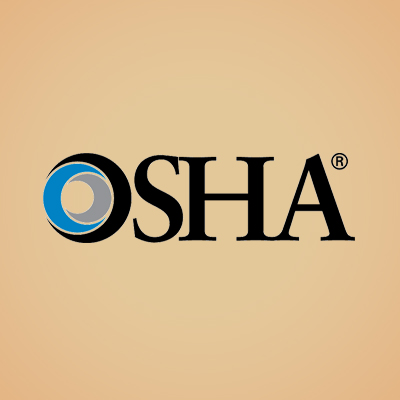 The other day, I was working with a customer who had just partnered with Convergence to begin improving her company's current safety training program.
She's a busy professional who wears many hats at work and has many responsibilities. One of them is to be sure the appropriate safety training is delivered to the workers at her company.
But she's not a safety professional, and was a little confused about where to start and how to know what's necessary. So we spent a little time with her, working things out, and while we did that, we passed some resources along to her.
One of them was an online guide from OSHA that we've found handy in the past:  their Compliance Assistance "Quick Start" Guide for General Industry. Have you seen it? If you haven't, write a note to yourself to check it out soon. Just check it out at that link above.
To make that even easier, we have written a series of three blog posts that walk you through the OSHA Compliance Assistance Quick Start. We broke them down like this;
Six compliance requirements that apply at MOST all companies (that's THIS article)
Because this is the first of those three blog posts, we're going to cover compliance requirements that apply at most companies. Remember that we're discussing compliance for general industry right now. OSHA does have separate guides for construction industry compliance and health care compliance as well, so check those out if they fit your needs.
And know that we've also created a free Guide to OSHA General Industry Compliance for you based on all these materials as well.
OSHA Requirements That Apply to MOST General Industry Employers
The first section of OSHA's general industry compliance guide includes "selected OSHA requirements that apply to many general industry employers." (Note: All quoted text in this article is drawn from the OSHA Compliance Assistance Quick Start).
These requirements, as listed by OSHA, include:
Hazard Communication
Emergency Action Plans
Fire Safety
Exit Routes in the Workplace
Walking/Working Surfaces
Medical and First Aid
We'll review each of those in the sections below.
In addition, we'll give you some tips for training your workers on topics related to each of the sections. In doing that, we'll provide some sample videos from our online safety training course library.
Hazard Communication Standard
The HazCom standard "is designed to ensure that employers and employees know about hazardous chemicals in the workplace and how to protect themselves."
To help employers comply with the HazCom standard, OSHA offers a number of helpful resources, including:
On the training front, employers must provide HazCom training, such as the online Hazard Communication training course shown below.

The specific training about chemical hazards will vary from site-to-site and company-to-company. But other safety training topics to consider might be training on DOT/HazMat and chemical loading/unloading.
Training on DOT/HazMat  may also be helpful, such as what's shown in this sample from an online DOT/HazMat training course.
And so might training on chemical loading and unloading.
Emergency Action Plan Standard
The next requirement OSHA notes as applying to most general industry employers has to do with emergencies and emergency preparedness/response.
According to the OSHA Compliance Quick Start, "OSHA recommends that all employers have an emergency action plan. A plan is mandatory when required by an OSHA standard."
OSHA's guide provides these helpful resources:
As for training, an online Emergency Action Plans training course like the one below can help set the scene for your site-specific emergency action plan training.
Fire Safety
Yet another requirement that OSHA's compliance guide suggests probably relates to all companies has to do with fires and fire safety.
Helpful resources that OSHA provides related to fire safety include:
As for fire safety training, you might consider a few different topics.
General training on fire safety can help by covering prevention and protective measures, as demonstrated in this short sample from an online fire safety training course.
And you should consider training workers when and how to use a fire extinguisher in the event of a real fire at work.
Exit Routes
The compliance guide notes that "all employers must comply with OSHA's requirements for exit routes in the workplace," and they offer the following helpful resources:
A lot of this might be covered in your Emergency Action Plan training that we covered earlier. Here's a short sample from an online Emergency Action Plans training course.
In addition, training on topics such as fire safety, combustible dusts, and other workplace emergencies may also cover this topic.
Walking/Working Surfaces
Yet another compliance requirement that the OSHA quick start suggests would apply to most companies involves walking and working surfaces.
As the guide says, "Floors, aisles, platforms, ladders, stairways, and other walking/working surfaces are present, to some extent, in all general industry workplaces. Slips, trips, and falls from these surfaces constitute the majority of general industry accidents. The OSHA standards for walking and working surfaces apply to all permanent places of employment, except where only domestic, mining, or agricultural work is performed."
OSHA offers the following helpful resources to help employers comply:
As for training, you can cover a lot of this material during training on Slips, Trips, and Falls, and shown in this sample from an online Slips, Trips, and Falls training course.

This online Floor and Walkway Safety and Audit training course is also helpful on this topic.
An online Pedestrian Safety training course  can also touch on issues related to working and walking surfaces, and might be something to consider here.
Medical and First Aid
The last requirement that OSHA's guide lists in the section that may apply to all employers addresses medical and first aid.
As the quick start guide notes, "OSHA requires employers to provide medical and first-aid personnel and supplies commensurate with the hazards of the workplace. The details of a workplace medical and first-aid program are dependent on the circumstances of each workplace and employer."
To help employers comply with this requirement, OSHA offers these resources:
The type of training an employer would provide for medical and first aid requirements depends on the work context and job roles.
But regardless, training on a topic like the one in this online Emergency First Aid training course could be a helpful addition to your training program at work.
Other first aid training could cover topics like the ones below:
Conclusion: OSHA Compliance for General Industry–What Most Companies Must Do
While OSHA general industry compliance isn't something you can do with no planning and with absolute ease, it's also far from impossible, and OSHA provides many resources to help you out.
To review, this article listed some compliance requirements that OSHA feels would apply to most general industry employers.
Those requirements include the following EHS topics:
Hazard Communication
Emergency Action Plans
Fire Safety
Exit Routes in the Workplace
Walking/Working Surfaces
Medical and First Aid
In the second article in this three-article series, we'll use the OSHA Compliance Guide to walk you through nine additional compliance requirements that OSHA feels MAY apply at a general industry company like yours. And the third article will draw attention to five additional compliance considerations to keep in mind.
What are your own thoughts on all this?
What about the guide, first? Have you used this guide before? Or what compliance resources do you use and recommend for others?
And what about the actual compliance requirements? What have you found difficult or challenging, and what great solutions have you put in place that you'd like to share with others?
The comments field below awaits your pearls of experience and wisdom. And don't forget to check out our library of online health and safety training courses for the workplace.
Before you go, please download our free guide to OSHA General Industry Compliance, too!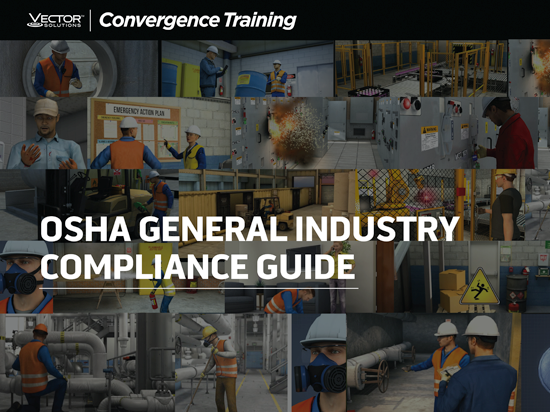 Free OSHA General Industry Compliance Guide Download
Download this free guide to assist with meeting your organization's OSHA general industry compliance requirements.