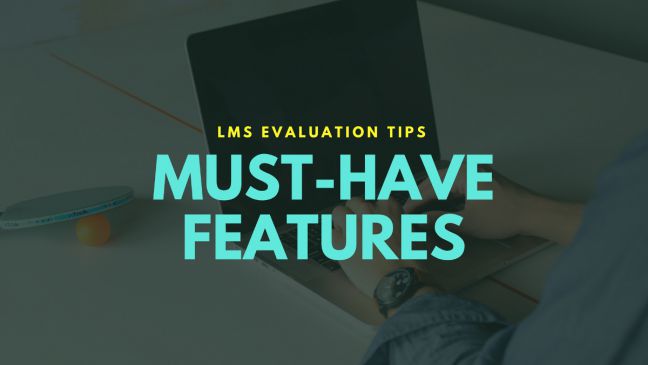 If you're currently using, or considering using a learning management system to help deliver and administer your workforce training, you've probably come across applications so stuffed full of features that you can't possibly imagine using them all. In this post we'll cut out all the fluff and focus on the six LMS features we feel are essential for effective workforce training.
If you're looking for a system that will actually save you time and help you do your job better, make sure it's capable of performing the following functions.
6 Essential Learning Management System (LMS) Features
Although there are many features that can be helpful and valuable in a learning management system (LMS), some are more important than others.
In this article, we've called out six features you should pay particular attention to. Make sure the LMS you're investigating can do each but also see how they do each so you'll know if they fit your company's learning and training needs. Remember that no two companies are alike and so your needs will differ as well.
The six features we'll look at are:
The ability to create custom training assignments per employee or employee group
Flexible reporting
Automated scheduling and other automated features
The ability to import and create your own training content
Support for blended learning
The ability of the LMS to integrate with other software applications at work, such as an HRIS, ERP, and CRM
So let's take a look, shall we?
1. Customizable Training Assignments
Assigning training is one of the basic functions of any LMS. The ability to assign unique training content to employees based on their individual training needs or job profile, however, is a key feature that is not always included in basic learning management systems.
A good LMS lets you assign training freely — to everyone in the organization, to the people at a site, to a particular department, to all people with a given job role, or to custom-created groups. This approach will save you a ton of time when distributing training and it will also help ensure that everyone in your organization is assigned the training required for their job position.
Still more advanced systems will automatically change an employee's training assignments when the employee changes from one job to another. This feature can save you hours of clerical time deleting old assignments and creating new ones when employees switch jobs, and of course it will keep your employees' training assignments current and relevant.
This flexibility in assigning training is one of the features that distinguishes an advanced training system from its limited-capability competitors.
2. Flexible Reporting
For many people, reports are the number one reason they invest in an LMS. You need records showing that your employees are properly trained, and you need to be able to access those records quickly and easily.
A good LMS will allow you to generate reports regarding any number of things–completed training activities, job qualification status, approaching annual refresher due dates, and much more. You should also be able to 'refine' your reports by running a report only on the part of your organization you're interested in: the entire organization, a site, a team, a department, a user, or a custom-configured group. This will help put the information you need in your hands when you need it, without any unnecessary data.
For nearly every company, reporting is a critical element of an LMS–it allows you to track who has been trained and who hasn't, and it allows you to document training for compliance purposes. If you're looking into an LMS, make sure to look closely at its reporting capabilities. If you can't access the specific training data you need from the system's reports, you should move on.
See our article on training-related KPIs and LMS reporting for more on this.
3. Scheduling and Automation
Organizations purchase learning management systems because they want to reduce time and energy spent on training administration. Yes, an LMS would be worthless without its training assignment and reporting functions, but a system's ability to automate common administrative tasks such as scheduling recurring training assignments, generating and emailing reports, and keeping track of due dates is where its true value is found.
Advanced learning management systems have assignment-scheduling engines that let you automate everything from the simplest "one-and-done" training assignments to the most complex recurring training profiles. This is critically important for regulatory compliance, such as safety training that OSHA requires on a yearly basis, or forklift certifications that must be renewed every three years.
Reporting, too, can be scheduled and automated. A good LMS can be programmed to automatically generate training reports and deliver them to management via email on a daily, weekly, or monthly basis.
Without these scheduling and automation capabilities, a training administrator would still be responsible for a bunch of complicated and time-consuming administrative tasks.
4. Import and Creating Your Own Training Content
No two facilities are exactly the same. Each has its specific hazards and policies, and many of those can't be covered by off-the-shelf training materials. There's always a need for site-specific training content and it's essential for trainers to have an easy method to upload or create their own training content.
This can mean things like:
Uploading a PowerPoint presentation
Uploading a self-created elearning course (read about elearning authoring tools and see our free elearning authoring tool tutorial for more on this)
Uploading a video file
Uploading a link to a website
Uploading a Word document or PDF
Uploading an elearning course created by a third party (read about SCORM for more on how this works)
Creating a quiz, checklist, or survey directly inside the LMS
Many learning management systems will allow you to import training content you've created on your own or purchased from providers in a few simple steps. Make sure to find a solution that lets you upload the content yourself, as it can be frustrating and time-consuming to rely on your LMS provider to import those materials on your behalf.
Some systems will even allow you to create your own training content directly within the LMS. Check the LMS to see what it does and how the content creation feature actually works.
5. Blended Learning Support
If you're unfamiliar with the term, "blended learning" refers to an approach to learning that takes advantage of a number of different training methods.
Every organization administers training a little differently. Some rely solely on instructor-led classes, while others do strictly computer-based training. Most take a 'blended' approach, using video or computer-based training and instructor-led training in addition to more task-specific hands-on training or on-the-job (OJT) training.
It's important to find an LMS solution that lets you record and report on all types of training: online e-learning modules, instructor-led training, OJT shadowing/following, skill demonstrations and evaluations, quizzes, webinars, videos, audio recordings, written documents, off-site training at local schools or with third-party training consultants, and more.
This flexibility is important, as it lets you choose a training method based on considerations such as training effectiveness, cost of delivery, compliance and documentation needs, or scheduling logistics instead of forcing you to choose a single method in a one-size fits all approach.
For more on this, read the following:
6. HRIS and Other Software Application Integrations
As organizations grow, they often acquire a number of systems to help speed up operations. If you have existing HR or talent management systems in place, make sure your LMS can easily pass training data along to be stored alongside other employee records.
A good training solution will allow your learning management system to communicate directly with your HRIS system to manage employee records. They can also integrate with file-storage systems like SharePoint to integrate your document control/management of change processes with your training program. You most likely have similar systems in place and no doubt intend to continue using them. Having the option to integrate an LMS with them increases their utility and eliminates the administrative and technical burden of maintaining multiple isolated systems.
So There You Have It–Essential LMS Features
There are six features we feel are essential to anyone looking for a LMS to truly help them optimize their workforce training programs.
You may also find any of the following articles about LMS helpful:
Have a great day! And don't forget the free LMS buyer's guide below.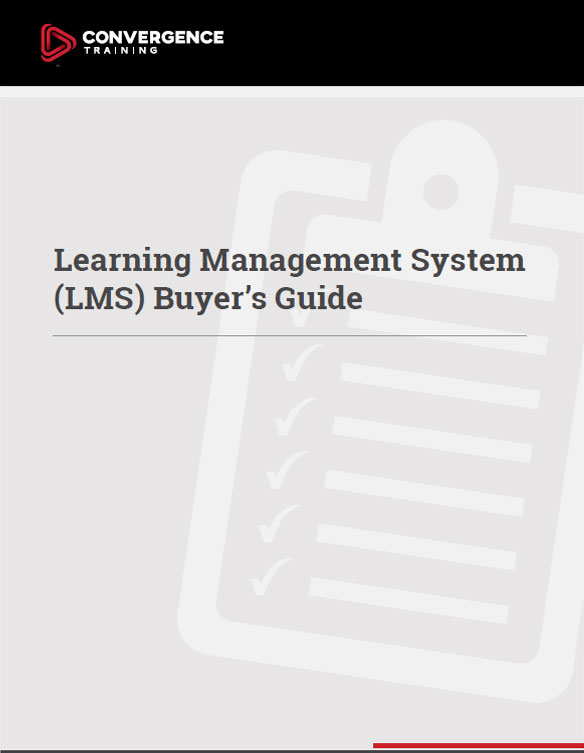 Learning Management System (LMS) Buyer's Guide
Learn what you need to know BEFORE you begin your search and get a free checklist to guide you, too.