The OSHA Form 300A is a summary of work-related injuries and illnesses that occur at a workplace establishment within a given year.
In this article, we'll give you five quick tips of what to do with the OSHA Form 300A.
If you'd like to learn even more, download our FREE GUIDE TO OSHA REPORTING & RECORDKEEPING.
5 Things to Do With OSHA Form 300A
Let's take a look at five things you should be doing, now and every year, with the OSHA Form 300A, the Log of Work-Related Injuries and Illnesses, including:
Completing
Posting
Storing
Submitting Online
Reviewing for Workplace Safety Improvements
Here we go.
1. Complete Your 300A Every Year
Most companies have to complete the OSHA Form 300A every year.
There are exceptions for companies with 10 or fewer employees or for certain low-risk industries. Click for a list of partially exempt industries.
To complete the 300A, use the information from your OSHA Form 301, the Injury & Illness Incident Report.
Click to read more about completing the OSHA Form 300A.
2. Post Your 300A From February 1 to April 30
Once you've completed your Form 300A, you've got to post it at your worksite from February 1 to April 30 (with information covering injuries and illnesses from the previous calendar year).
Make sure to put it where all employees can see it. Here's how OSHA puts it in a recent OSHA Quick Take:
[300A]…must be displayed in a common area where notices to employees are usually posted.
3. Store Your 300A for at LEAST Five Years
You don't have to keep that OSHA Form 300A posted all year, although there's no problem with doing that.
However, in addition to posting the 300A every year, you've got to keep records of them as well.
Keep your OSHA Form 300As for at least five years after the year for which they contain data.
4. Submit the 300A Data Online at OSHA's Website
OSHA's has a new online reporting rule.
Some employers have had to submit 2016 300As online already, but for many establishments, the online submission requirement will kick in when they're required to submit the 300A Forms online covering 2017 injury & illness incidents on or before July 1, 2018.
5. Review Your 300As to Improve Workplace Safety and Health
But this isn't all just a clerical, recordkeeping, and submission task.
As one part of their Safe+Sound Week Campaign, OSHA recommends using your Form 300A (the "Log") to help identify and eliminate hazards at work. Here's how they put it:
The log is not just a way to look at your past safety and health record, and it's not just something for OSHA. It's a powerful tool to help you identify hazards in your workplace so you can correct them and prevent future injuries and illnesses.
OSHA suggests reviewing your 300A at least annually as part of this process. We think you could roll this 300A review process into your larger safety and health management system improvement efforts.
Does Convergence Training Offer a Product to Help Track Reportable Injuries & Illnesses, Create Form 300A, and Submit Injury & Illness Data to OSHA Online?
Sure. Check out our Incident Management Software, or IMS.
We've provided a quick video overview for you below, or just contact us if you've got questions.
Conclusion: Get Crackin' on Those OSHA Form 300As
So you see that not only is the OSHA Form 300A a responsibility, it can also be a friend in helping you create a safer, healthier workplace. Which is the name of the game in safety, no?
Before you leave, please download the FREE GUIDE TO OSHA REPORTING & RECORDKEEPING below.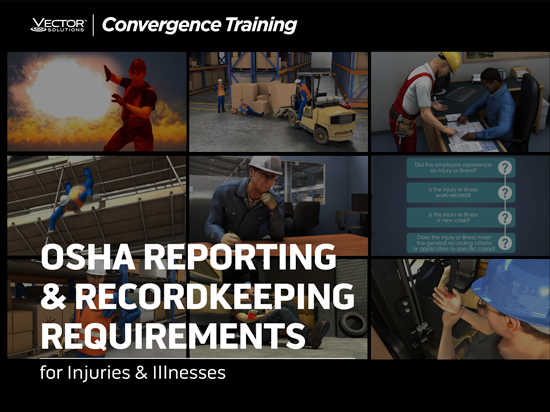 Free OSHA Injury & Illness Reporting & Recordkeeping Guide Download
Download this free guide to learn what you need to know about OSHA requirements for injury & illness reporting and recordkeeping.