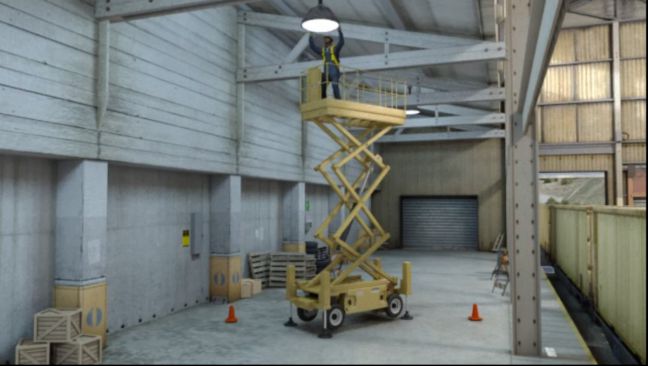 Falls from heights continue to be a major cause of occupational injuries and fatalities, year after year. Those falls occur in a number of ways, including workers falling from aerial work platforms.
In this article, we'll give you a few simple and easy-to-implement safety tips for working with aerial lifts. You might also be interested in our other articles related to falls that we created for the Safety Stand-Down week, including:
Also, check out the bottom of this article, because we've included a free Fall Prevention Toolbox Talk Checklist for you. 
3 Fall Prevention Tips for Working on Aerial Lifts & Aerial Work Platforms
When used properly, an aerial lift is not only helpful, but it can reduce other safety risks. For example, they can help prevent falls and reduce the risk of injuries to the neck, back, and/or shoulders that a worker might experience as a result of ergonomic strains from working at or above shoulder level.
But that doesn't mean that aerial lifts don't present their own safety hazards, because they do. And so it's important to know how to use them safely. And this is complicated by the fact that there are different types of aerial lifts, including cherry pickers, bucket trucks, and scissor lifts, each of which might have controls that are different and even opposite the other (for example, the "down" lever on one type of aerial lift might be the "up" left on another).
As a result, it's important to get proper training and to follow safety procedures when working with aerial lifts. The following three tips aren't all you'll need to know, but they're a great first start toward working safely.
1. Get Trained Before Operating and/or Working on an Aerial Lift
Every authorized aerial lift operator must receive training from a qualified person who has experience with the type and model of aerial lift being used. This is an OSHA requirement, and it's the employer's responsibility to ensure this takes place.
According to OSHA, a qualified person is:
Someone who by knowledge, training and experience has successfully demonstrated their ability to resolve problems relating to the project.
That training should follow recommendations in the manufacturer's instructions, and operators should always follow manufacturer instructions when operating an aerial lift.
If you're operating an aerial lift, make sure you've received proper training first. Likewise, don't get on an aerial lift unless the operator is properly trained. And employers, make sure you're providing the proper training and that people know not to use an aerial lift without proper training.
2. Wear a Full-Body Fall Protection Harness When Working on an Aerial Lift
Always wear a full-body fall protection harness when working on/in an aerial lift. Attach a lanyard to the D-ring of your fall protection harness and the other end of the lanyard to an engineered anchor that's located either in the basket of the lift or on the boom. NEVER attach your lanyard to the aerial lift platform's guardrail.
Wearing a body harness in a situation like this can help you avoid falling out of the lift if it's unexpectedly struck by another object or vehicle.
That fall protection harness could be the difference between a minor incident at work and a fatality.
3. Check Above for Overhead Power Lines Before Entering or Raising an Aerial Lift
Overhead power lines are a serious hazard for aerial lifts. They carry great amounts of power and aerial lifts are a wonderful conductor of electricity. If your aerial lift comes in contact with or comes too close a power line, watch out!
Always perform a pre-job walk-around to look for power lines before using an aerial lift, and always stay at least 10 feet away from any power lines you do identify.
When possible, have power lines de-energized; check with your supervisor to see which, if any, power lines have been de-energeized before you work.
Online Aerial Lift Training
For improved learning, retention, and learning transfer, experts recommend a blended learning solution that involves multiple types of training delivery. This can include instructor-led training, field-based training, hands-on training, written training, video-based training, eLearning courses, field-based performance support, refresher training, and more.
An online training component can be a great addition to your aerial lift training program. Below is a short sample from an online aerial work platform safety training course to give you an example.
Conclusion: Be Careful When Using an Aerial Lift!
Remember that as helpful as an aerial lift can be, it's also important to be aware of the hazards, to receive and follow proper safety training, and to be careful at all times.
Safe work to you, and remember to download the free Fall Prevention Toolbox Talk Checklist below.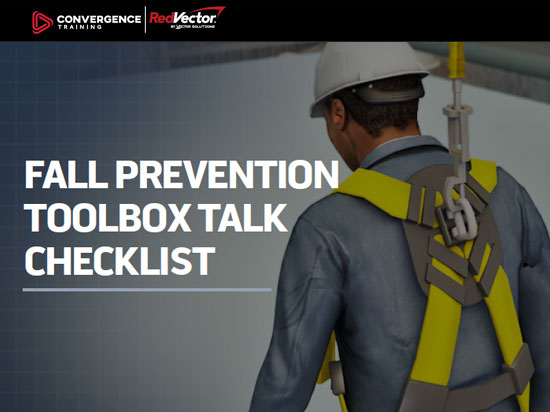 Free Download–Fall Prevention Toolbox Talk Checklist
Download this free checklist to help lead toolbox talks on fall prevention, including ladder safety, scaffolding safety, and roofing work safety.