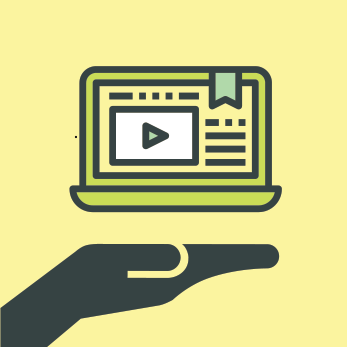 If you're thinking of adding an online training element to your current safety training program, you may be wondering how you can use your new online training capabilities. Exactly how might you use your online employee safety training?
And by that, we mean different what are the different options about when and how your employees would view and complete the online training within the entire safety training program?
Let's take a look, shall we?
12 Ways to Deliver Online Employee Safety Training
So you're thinking of getting some online safety training for employees. Maybe it will include safety and health training like you see in the short video sample below, which includes some highlights from the online safety and health training library created by Convergence Training.
But there's still a lot to think about. For example, what's the best way to deliver the training to your workers? Or even, what are some of your delivery options?
Here's a list to get you thinking.
1. Let Employees Complete Online Training Using a Computer On Their Own
In many cases, all your workers need is a  desktop computer and some time to themselves. They can complete the training on their own without a manager being present. That makes it easier for workers to complete training on their own schedule. It also saves the time managers, and lets them lead instructor-led training only when it's necessary.
2. Have Employees View the Online Training Projected on a Screen Along With Other Coworkers
At other times, it may be helpful to project the online safety training and let workers view and complete the training with other workers. This can lead to constructive conversations and improve employee involvement in your company's safety culture.
3. Project the Online Training In a Classroom Setting with an Instructor and Other Employees
It's online training, but that doesn't mean you can't watch it during an instructor-led classroom-style training and view it with several employees.
This can provide a great opportunity for answer questions and providing verbal feedback, giving the in-room instructor an opportunity to answer questions, correct mistaken understandings, and otherwise interact with the employees.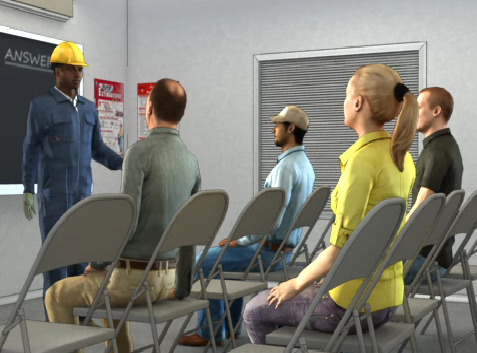 4. Watch The Online Training During a Toolbox or Tailgate Talk
Need to highlight some critical safety aspects in the minutes before your employees begin the job task?
You can use an online safety training course to help you illustrate hazards, controls, and safe work practices.
You can even do that out in the field on a mobile device, as shown below.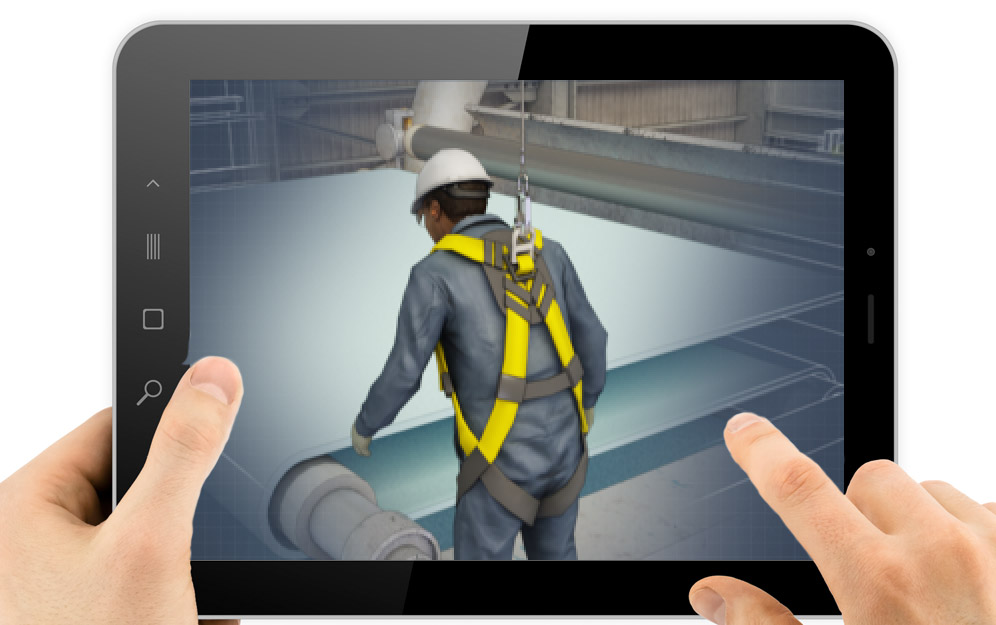 5. Watch A Course Together During a Safety Meeting
An online safety course can be a good way to begin a weekly or monthly safety meeting.
For example, you could watch a course explaining some basics about hazard communication, then move on to an instructor-led discussion, demonstrations, evaluations, discussions of the chemical hazards at your workplace, and more.
6. Let Employees View the Safety Training Using a Mobile Device at Work
People can do almost everything on a mobile device. Since that's true, why can't employees complete safety training on a mobile device, too?
Allowing workers to take safety training on a mobile device means they can do it when it fits their schedule, which will allow them to complete their work tasks more efficiently.
Click to learn more about mobile safety training apps.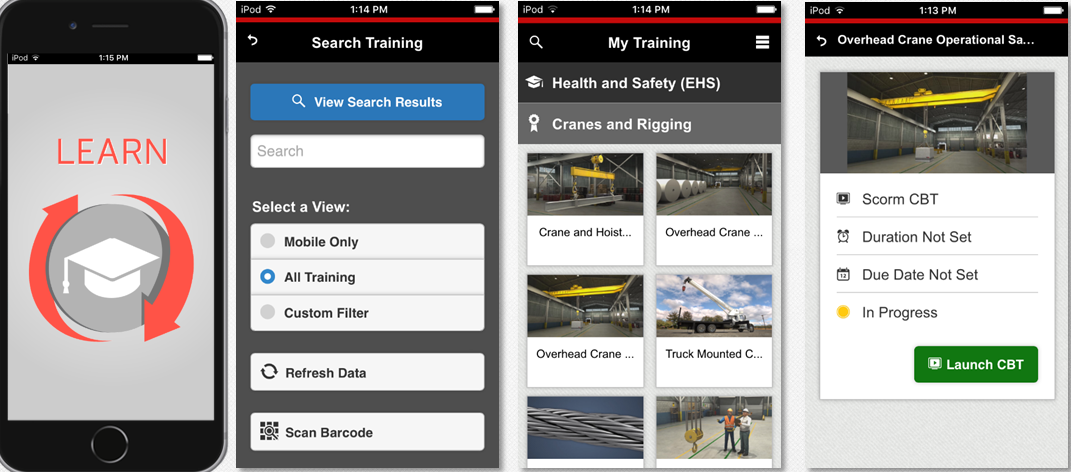 7. Let Employees Watch the Course from Home
Why not let employees watch the course from home, via a VPN to the work network or on a secure, password-protected web site?
8. Allow Employees to View the Course From Their Remote Workplace
Delivering training to employees who work at remote locations and/or travel for work is always a challenge.
Online safety training makes it easier for you to get that safety message to employees who work remotely, wherever they are. This option can save a lot of travel and lodging money.
9. Use the "Flipped Training Model"
Online safety training allows safety trainers to take advantage of the "flipped training model" that school teachers have been using successfully for many years.
The idea is to use online training and then instructor-led training to teach employees specific safety topics.
For example, you assign an online safety training course about lockout-tagout to workers. This allows the workers to take the course when it's convenient for them and at their own pace. Then, you schedule a follow-up classroom session with that group of workers, all of whom have completed the online course. You can now take more focused questions from the workers, introduce specific lockout policies, and spend time role-playing and demonstrating lockout skills.
10. Embed Online Training in the Work Area
Your training can be much more effective if you "embed" it directly in the work area, where employees are expected to apply the training on the job. This means the employees will view and complete the training right at the work area, just before they need to complete the task.
You may find that delivering training on mobile devices is very helpful for this.
11. Allow Workers to Review Training As Needed for Performance Support
Training doesn't have to be–and shouldn't be–a "one-and-done" experience.
By making training materials available online to employees, on either desktop or mobile devices, you'll give them the ability to review training at any time they need it.
Making safety training available to workers 365 days a year, 24/7, so that the worker can view it at any time, can be the difference between just another day at work and an emergency.
12. Assign Online Training for Refresher Training
Online training can be a great option for refresher training, too.
Even better, you can set it up so employees take a little refresher training at different points all throughout the year. This makes it easier for the employees to "digest" and remember the training, which means they're more likely to work safely on the job.
See this article about the forgetting curve and refresher training for more information.
Conclusion: How to Deliver Online Safety Training to Employees
Taking advantage of all these different ways to deliver online safety training to your employees (plus others we haven't listed) will make your safety training program that much more effective.
What do you think? How do you deliver safety training to your employees at work?
Before you go, check out the guide below. It explains real benefits that our real customers experienced after adding online training to their safety training program for employees. You can download a copy for free if you're interested.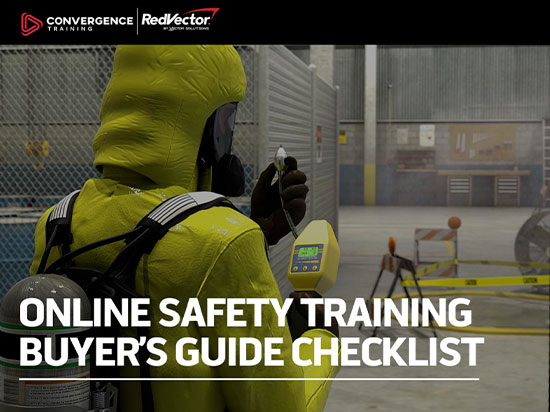 Online Safety Training Buyer's Guide Checklist
Learn how to evaluate different online safety training solutions to find one that best fits your company's needs with our FREE informative guide and checklist.