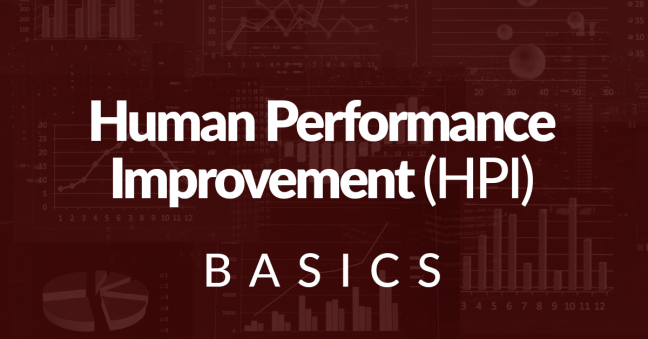 Human Performance Improvement, or HPI, is the field of study dedicated to creating methods that allow us to better (1) identify workplace problems, (2) analyze their cause(s), (3) come up with interventions that will lead to meaningful performance improvements, and (4) evaluate those interventions to make sure they were successful and to check to see if they created unintended negative consequences.
HPI is both a systematic method and a systemic method for workplace performance improvement. When we say that HPI is systematic, we mean the various HPI models present a sequential, step-by-step process the HPI professional can use to work through the performance problem identification and solution process listed in brief above. There are numerous systematic HPI models for doing this, and in this article, we're going to discuss one of those–Thomas Gilbert's Behavior Engineering Model, also known as BEM. We've already discussed a few other systematic HPI models, including the ATD HPI model and the Rummler/Brache Nine Variables HPI model.
When we say that HPI is systemic, we mean it takes into account the interrelationship between different components of different systems at the workplace. Here's how William Rothwell, Carolyn Hohne, and Stephen King put that in their book Human Performance Improvement: Building Practitioner Performance: "This open-systems phenomenon has been likened to a spider web, in which force applied to one part tends to echo, resound, and reverberate throughout the web."
And one last point to keep in mind: the HPI method is driven by data, and the HPI practitioner should be too. HPI has its roots in engineering, and accordingly it has a built-in demand for collecting and analyzing data at all stages throughout the HPI process (instead of merely hoping, relying on hunches, or simply not thinking about it). This demand for data goes back at least to Edward Deming (download our Deming's 14 Points of Management infographic here).
For those of you wondering, human performance improvement (HPI) is also known as human performance technology (HPT). It's sad that we live in a world where we can't have nice things and we have multiple names and acronyms for the same idea, but that's the world we live in. But don't let this confuse you–if one person is talking about HPI and another is talking about HPT, they're talking about the same stuff! 🙂